5 Reasons Why You Should Book A Beach Vacation Rental this Summer
Posted On Monday, March 9, 2020
---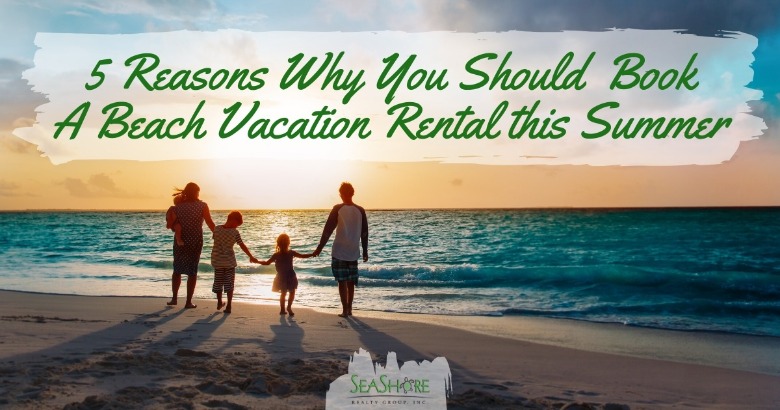 If you're enjoying the warm weather of spring just think how much you'll enjoy dipping your toes in the cool waters of of Topsail Island this summer. We understand there are lots of options to choose from when booking a beach vacation. Of course, there are hotels and motels. However, as you'll discover when looking for your next beach vacation nothing beats the value of a vacation rental. This week is actually the inaugural year for the VRMA's, Vacation Rental Week. This means it is a great time to step back and take a look at all the reasons we think you'll enjoy booking a Topsail Island vacation rental with Seashore Realty. Here are five great reasons to book a vacation rental this year for your family beach vacation.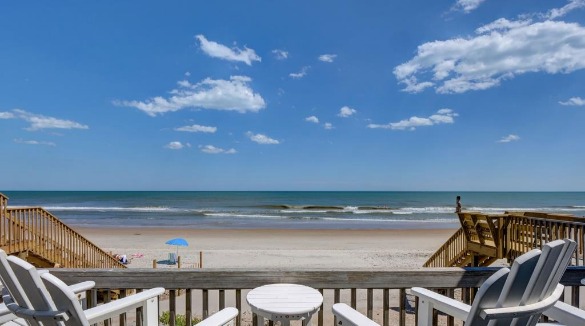 Vacation homes are perfect for families
Families love vacation rentals on Topsail Island. Look at the view in this picture. This stunning view is from one of our featured vacation rentals. Picture the kids running to the beach, mom and dad relaxing on the deck, the cool breezes all from the privacy of your own large deck. You can't get this type of family fun and space in a hotel. If you have active teenagers or even young kids nothing makes life easier than an oceanfront vacation rental.
Best value
Accommodations account for a huge portion of your vacation budget. If you've looked at the cost of hotels you'll discover just how expensive they can be. When you pull back the curtains on what you get for the money with a hotel and compare it to a vacation rental you'll quickly see just how great a Topsail Island vacation rental is. For example, consider the fact that the average hotel room is around 300 square feet! No consider for the same price or less for a week you can stay in a well-appointed condo or vacation home? The choice is clear...right!
Feel like home...except at the beach!!
Nobody has ever opened the door to a hotel and felt like they were at home. A busy hallway at three a.m. is nobody's idea of relaxation. However, when you book one of our beautiful and well-appointed vacation homes you'll truly feel like you are coming home...except at the beach! How do we create such a wonderful vacation experience?
Here are Seashore Realty we take pride in ensuring out vacation homes meet the highest standards of cleanliness and feature the best amenities on in the area. All of our homeowners work closely with out staff to continuously review their properties. By taking this extra time we can ensure our visitors have access to the best rentals on Topsail island.
In our homes you'll find well-appointed kitchens, updated bathrooms, WiFi, large screen televisions and a host of other amenities. All of our homeowners take great pride in creating beautiful warm beach settings in their homes. We promise when you walk in the door of one of our exceptional properties that you'll be glad you ditched that musty old hotel
Loads of great options and amenities
Whether you are looking for a large home on the oceanfront for a big family gathering or a more intimate setting for a romantic getaway we have a rental for you. When choosing a home there are several things to consider. Here are a just a few of the things you should consider when planning your beach vacation accommodations.
1. Consider the size of your vacation party. There is no need to have a four bedroom home when you just have a small party.
2. Next you'll want to decide what amenities you need. Do you love to cook? Is WiFi important? Maybe you have lots of kids and having on sight laundry service available is important. No matter what you need we likely have it.
3. Location, location, location. Topsail Island is a fun and diverse area with several distinct areas to choose from. If you love being in the heart of the action you will love a Surf City location. Looking for a quieter calmer vibe? Choose North Topsail Beach or Topsail Beach. No matter where you want to be on the island we have the perfect vacation home for you.
4. Oceanfront or not? There are really no bad locations on Topsail Island. The beauty of our barrier island is that you are never far from the water, and let's face it we are all here for those famous beaches...right? With our easy to use website you can search for homes with oceanfront access, ocean views or quieter locations tucked away from the beach. One thing is certain all of our homes are flip-flop walking distance to the beach.
5. Eating out is a big part of any family budget. However, for many families the convenience of having a kitchen is an important factor in choosing a vacation home. If you are feeding hungry teenagers you can save hundreds of dollars with a little meal prep and by cooking at home. Plus it is the easiest way to enjoy all the delicious local seafood you'll be buying. Take a look at our vacation homes and you will discover loads of well-appointed kitchens that are perfect for taking a little stress out of the family budget.
Bring the Dog
Topsail Island is a great place to bring a dog on vacation. After all who wants to leave one of the most important family members at home? We have over a dozen great homes to choose from that are pet-friendly. Forget being cramped in a hotel paying a huge deposit for your dog. Just like you will enjoy all the extra space, easy beach access and amenities galore so to will your dog. Need help finding a pet-friendly Topsail Island vacation homes? Just click here!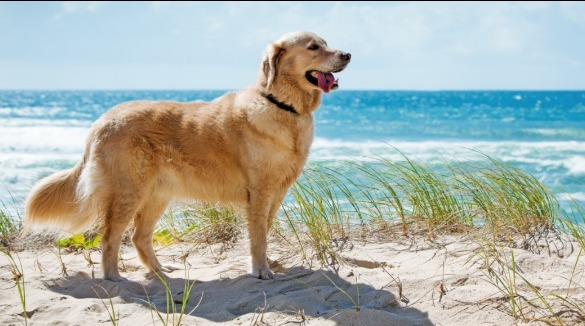 Now is the perfect time to book your next summer vacation on Topsail island. Bookings are filling up fast. Give us a call today at 910-328-3400 to book your Topsail Island beach vacation. Forget those hotels and instead unleash the full relaxing power of your very own vacation home.
Comment on this post!