Pre-Foreclosure Services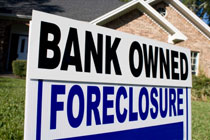 Have you been dreaming of owning real estate whether it is a vacation home, weekend retreat or an investment for your future? Are you worried you will be paying too much? Please take a moment to consider this exciting way to own real estate. Bank Owned and REO properties are very popular in today's market. Pre-foreclosure sales offer buyers and investors the opportunity to purchase property at the lowest price possible. Pre-foreclosure properties are sold "As Is, Where Is". Purchasing pre-foreclosure properties require extensive research by a qualified professional and motivated buyers/investors to execute a transaction.
Buyers/Investors will be purchasing the property through auction and the buyer/investor will need to act quickly to access the necessary funds in order to purchase. Through this method of purchasing property, the buyer/investor has the opportunity to purchase at extremely low prices! Depending on the buyers/investors purpose for purchasing property, the low price of purchasing a pre-foreclosure property allows many options: a 2nd home/vacation home, a rental property, or to resale for a profit. Even in today's "tough" market conditions, the purchase price on the pre-foreclosure properties allow buyers/investors room to make a profit.
An Example of an Actual Property Located in Surf City:
#1.a townhouse the original owners purchased in 2006 for $575,000; sold as a pre-foreclosure in 11/2009 for $220,100. A townhouse just like that one, in the same development sold 3/2009 for $389,000. That is a savings of $168,900 that SeaShore Realty Group, Inc. was able to save their client.
SeaShore Realty Group Inc. has developed a 5 step process to purchasing real estate in the pre-foreclosure process:
Finding and researching the property,
Working with local banks that will set the date, time, and bid(purchase) amount,
Determining what the buyer/investor will bid based on research.
Following up on the 10 day "upset" period,
Arranging for buyer/investor to close the property within 14-20 days after upset period.
The two key aspects of purchasing property in this manner are research and the ability of the buyer/investor accessing their necessary funds in this timeframe.
SeaShore Realty Group Inc. has hours in extensive research, including seeking the advise of attorneys regarding the risks of purchasing these types of properties through the pre-foreclosure method vs. Bank Owned and REO properties, as well as consulting with different individuals employed by the banks that are forcing the pre-foreclosure sales and loss mitigation departments. We have established a successful method for purchasing properties that are being sold as pre-foreclosure sales. SeaShore Realty Group, Inc. has successfully assisted our clients in this method of purchasing, with great results!
This is an innovative way to purchase/invest in pre-foreclosure real estate in Eastern North Carolina. There are not many people or Brokers/Realtors that have researched this method of purchasing property and do not have the knowledge or skills to use this method to purchase pre-foreclosure real estate. If you are someone who is interested in purchasing pre-foreclosure real estate, please contact our firm to receive more information about this method of purchasing and for more information on the properties that are being sold as pre-foreclosure sales. SeaShore Realty will be happy to help you in your next purchase.
Check out our website for all Topsail Island Bank Owned Properties and REO Properties.