10 Things Every Jet Skier Should Know
Posted On Sunday, November 22, 2020
---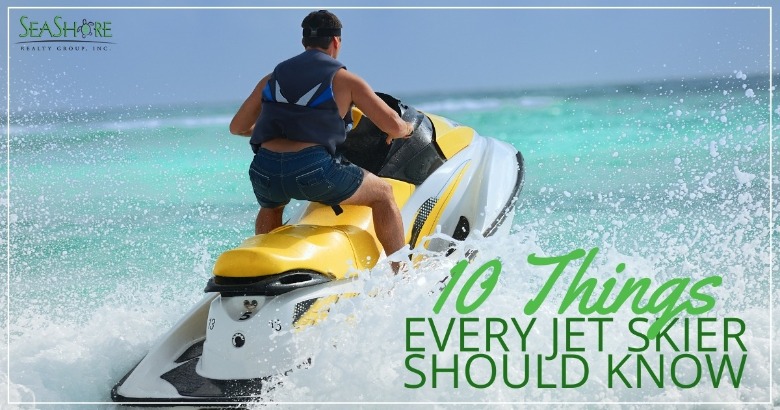 There are a lot of great ways to enjoy the local waterways, and one of the most popular is via jet ski. Jet skis offer so many unique and fun ways to explore Topsail Island, however, they also offer their own unique set of challenges. This week we have everything both new and seasoned riders alike will need to to have a fun and (most importantly) safe time on the water.
State Resources and Regulations
Before you hit the water it's always a good idea to know the local regulations. Here in North Carolina, the North Carolina Wildlife Resource Commission is responsible for the management, regulation and enforcement of personal watercraft. Do not assume that the local laws of of your home state apply here in North Carolina. Here are a few key facts you need to know about using a jet ski on the North Carolina's waters.
If you are under the age of 16 you must take an approved boater safety course.
Even while riding with an adult, a person under the age of 16 still must have taken a boater safety course.
Personal Water Craft (PWC) cannot be operated between sunset and sunrise.
For more specific information from the State of North Carolina- Click Here
Have a launch plan
Launching a jet ski (or boat, for that matter) can be a stressful event. Boat ramps can be busy during peak times. Having a launch plan is an easy way to reduce stress, have a successful launch and ultimately lead to a good start to your day on the water.
Make sure to have a spotter, a good battery in your jet ski and a line on your watercraft to tie it off. Doing these three things will make your launch smooth and stress free.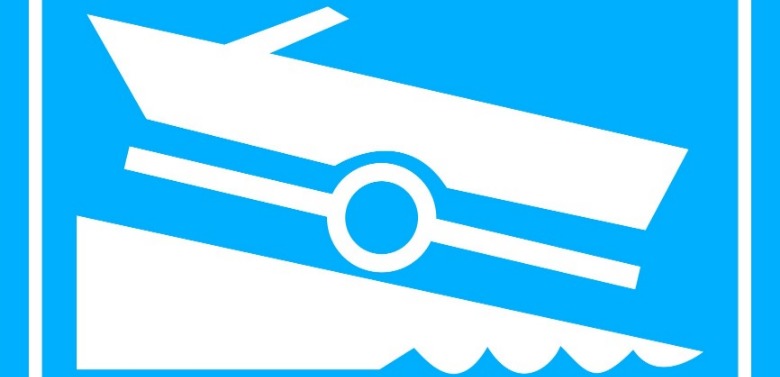 Know your surroundings
Jet skis are high performance machines capable of doing amazing things. However, you don't want to get carried away. While riding your jet ski, make sure to maintain a safe distance from other boats. Also, never jump wakes or swerve in front of larger boats. Avoid swimmers and beach goers, and don't ever spray other boaters. Remember that you are required by law to follow the rules of the road.
Familiarize yourself with your watercraft
If you are new to using a PWC it is important to familiarize yourself with how to properly use your jet ski.
Choose a quiet area to practice using the throttle, carving through turns, and coming to a stop. If equipped, put the craft into reverse and note how it steers when backing. Understand that throttle is required to make a turn. Rather than a rudder, personal watercraft use directed thrust produced by the jet pump to steer. If you stop that thrust by releasing the throttle or stopping the engine, the driver will lose directional control over the craft. Because releasing the throttle and turning the handlebars fully to one side is a common reaction in a collision-avoidance situation, manufacturers long ago addressed this scenario by having craft automatically apply a small amount of thrust should the driver perform those actions. That minimal amount of thrust is enough to initiate a turn in the direction the driver intended and possibly avoid an obstacle, but manual throttle input is essential for true directional control.
Practice makes perfect!
Towing responsibly
Modern personal watercraft are far more powerful these days than ones made even ten years ago. Because of this added power, they have become popular for towing tubes, wakeboarders and water skiers.

Towing is fun but has added responsibilities. In North Carolina, in order to tow a person with a PWC, you must have either a rearview mirror or a spotter on the PWC. If you do not have these items you can be subject to a ticket and/or fine. Be safe and know what is going on behind you.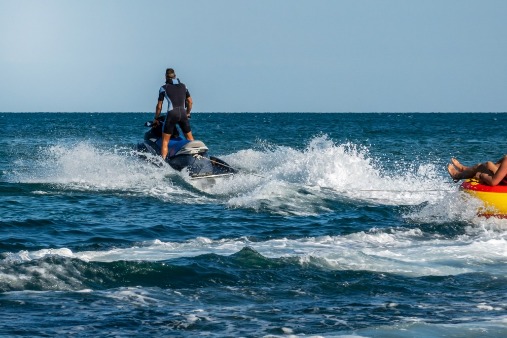 Never ride without these two things:
There are several optional items to take on your jet ski or personal watercraft, but there are two things you should never ride without. One is, of course, your personal flotation device. The second item is an engine shut-off lanyard. This item is particularly important if you fall off of the jet ski. The lanyard will immediately activate the kill switch turning off the jest ski.
Alcohol and jet skis don't mix
The beach, heat, and a cold adult beverage are a common mixture. Hey, it is vacation after all. However, jet skis, like cars and boats, never mix well with alcohol. The easiest way to stay safe is to have a designated driver. The person driving the Jet Ski should never be under the influence. Failing to do is a criminal offense in North Carolina carrying stiff penalties.
Be sensitive to the local ecology
Though a PWC might be able to operate in shallow conditions, avoid environmentally sensitive areas. While your PWC might not have a rudder or propeller extending below the hull bottom, the extreme pressure of water exiting the jet pump can still do damage in shallow conditions. Riding in shallow waters can also cause damage to your craft because the suction of the pump can draw in sand, rocks and other debris in waters less than 3 feet deep.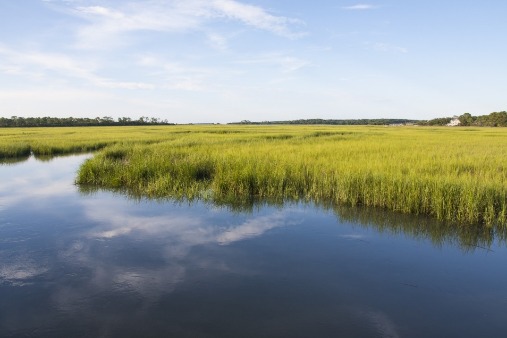 Maintain your craft
Few things can ruin your day like being stranded on the water. As with any piece of equipment, proper maintenance is key. Most personal watercraft tend to sit a lot in between uses. It is important to maintain your watercraft at all times. Always check the oil, fluid levels and make sure any drain plugs are properly closed prior to hitting the water.
Check the weather
Any time you are heading out on the water you'll want to check the weather. Weather on the coast of North Carolina can change quickly. Take a few minutes to review the local weather, particularly the wind conditions for the day. Another handy piece of information to have are local tide charts. Now you are ready to hit the water.
Have you decided on your next beach vacation destination? If you haven't, Topsail Island is the perfect place to have your next adventure. We have beautiful beaches, loads of activities, small town charm with big city convenience. Give us a call today at 910-328-3400 to speak with one of our reservationists or click the button below to see all of our vacation homes.
Comment on this post!