Everything You Need to Know About Fall Fishing on Topsail Island
Posted On Monday, September 23, 2019
---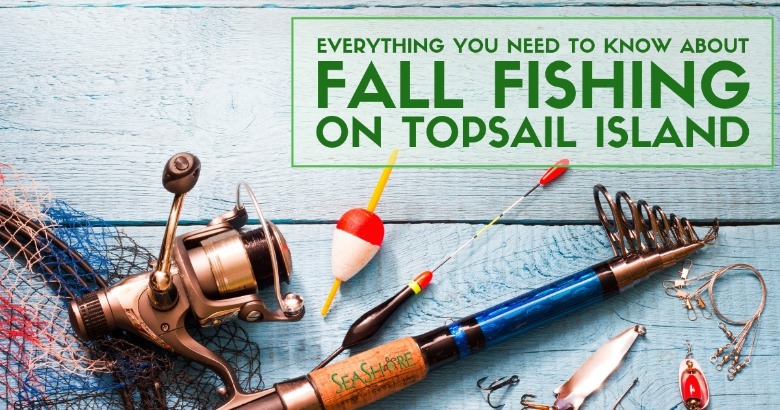 Fall is well known for a lot of things in North Carolina, but perhaps the one thing we all love on the coast is the fall fishing season. Fall is a beautiful time of year on the coast. The weather is great, the crowds are gone and of course, the fish are biting. This week we have everything you need to kick off your fall fishing vacation on Topsail Island. So grab your rod and reel and let's get ready for catching the big one.

Why Fish Topsail Island?
Coastal North Carolina is a fisherman's paradise. Topsail Island is close to the warm waters of the Gulf Stream and surrounded by cooler inshore waters. It's almost as if Topsail Island was virtually made for the angler. With each new season, a new and exciting fishing opportunity presents itself. Fall is no exception.
In the Fall, sheepshead, red drum, black drum, bluefish, trout, striped bass, and sailfish are abundant off our shore. Of course, these are just a few of the fish you'll find. Our quiet inland waters are just as exciting places to fish. Local creeks and marshes are the perfect habitat for flounder, trout, or red drum. Go ahead and get the grill ready! Here is everything you need to know about fall fishing on Topsail Island.
Why Fall is a Time to Fish Topsail Island
Why fall you ask? Well without getting too technical the bottom line is as the weather changes and the colder temperatures enter the area fish change their migration patterns. Just like birds, fish begin to migrate south from Northern waters looking for warmer winter waters. As they do this they also come closer to shore making it the perfect time for anglers to enjoy fishing on Topsail Island.
Fishing License Requirements
All fisherman in North Carolina need to have a valid license. There are several different types of licenses depending on where and what you are fishing for. Make sure to have the proper license because the fine can be steep. For more details and current licensing requirements Click here!
Surfcasting
You have probably seen folks fishing on the beach and wondered about what type of fishing is that. The answer is surfcasting. Surfcasting is a fun and easy way to not only enjoy the beach, but also enjoy some world class fishing.
If you are new to it all you need is a rod, a bucket, some bait and a little bit of patience. Ok sure there is more to it than that, but at its core surfcasting requires very little. Many of the local bait shops even rent equipment and offer lots of advice on the best rigs and jigs to use.
Fall on Topsail Island creates perfect conditions for red drum, speckled trout, and flounder. Yes, you will want to have propane or charcoal ready because all of those are delicious on the grille. Remember you still need to have a North Carolina fishing license. Need a little advice on the best places to fish on the island. Stop in any of the local bait shops to bend a local's ear. We apologize for the tall tails in advance.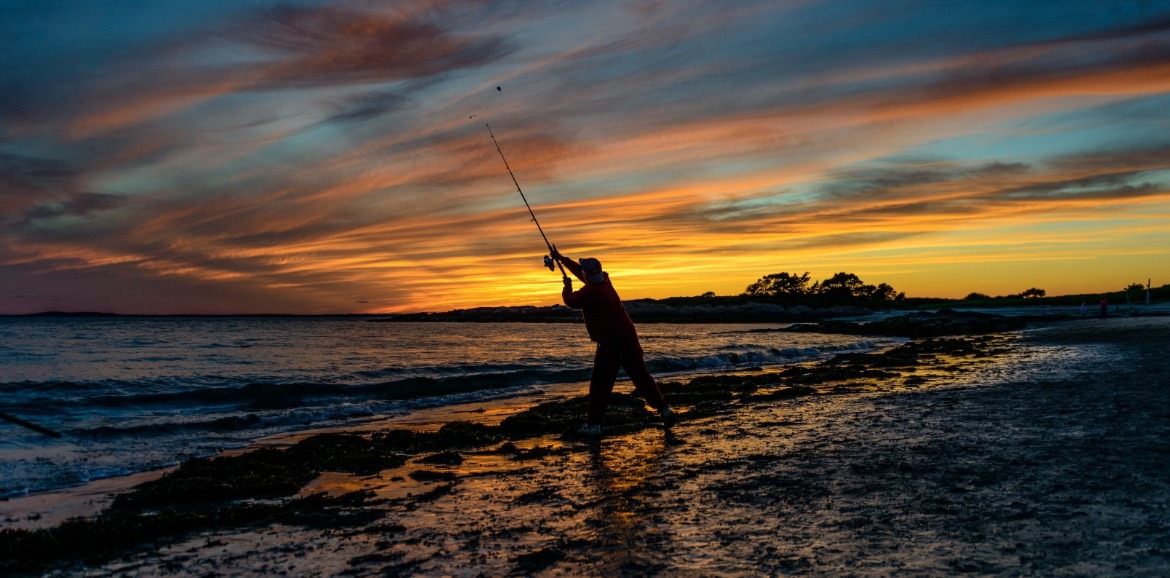 Fall Pier Fishing
Perhaps the most family friendly form of fall fishing is fishing off of one of the three piers on Topsail Island. Pier fishing has so many great advantages to it. First, you actually don't need a license as the pier itself has a license for all those fishing on the pier. Another great advantage is there is always loads of locals who can offer great advice on the best bait, jigs and times to fish.
Don't have your own equipment? Yet another great reason to try pier fishing. All of the piers offer an array of rental equipment, so there is no need to make a big investment or drag all that equipment from home. Many of the piers are open at night and have snack bars making them a fun destination. Even if you aren't looking to fish, stop by and enjoy the atmosphere.
Need to find out more about the local piers. Below we have a list of the local piers and their contact information.
Seaview Pier
Location: Northern Topsail Island
Website: Seaview Pier
Amenities: On sight restaurant. The best part about the restaurant is they will clean and cook your catch just the way you like. it. Onsite rentals, bait, restrooms and cleaning stations.
Jolly Roger Pier
Location: Southern end of Topsail Island
Website:Jolly Roger Pier
Amenities:Rod and reel rentals, snack bar, bait shop, restrooms. Well lit and a popular place for night fishing.
Surf City Ocean Pier
Location: Surf City in the heart of Topsail Island
Website: Surf City Ocean Pier. T
Amenities: Tackle shop, bait, cleaning stations, and lights. Note: this is the original pier on Topsail Island and has been continuously operated by the same family since 1973.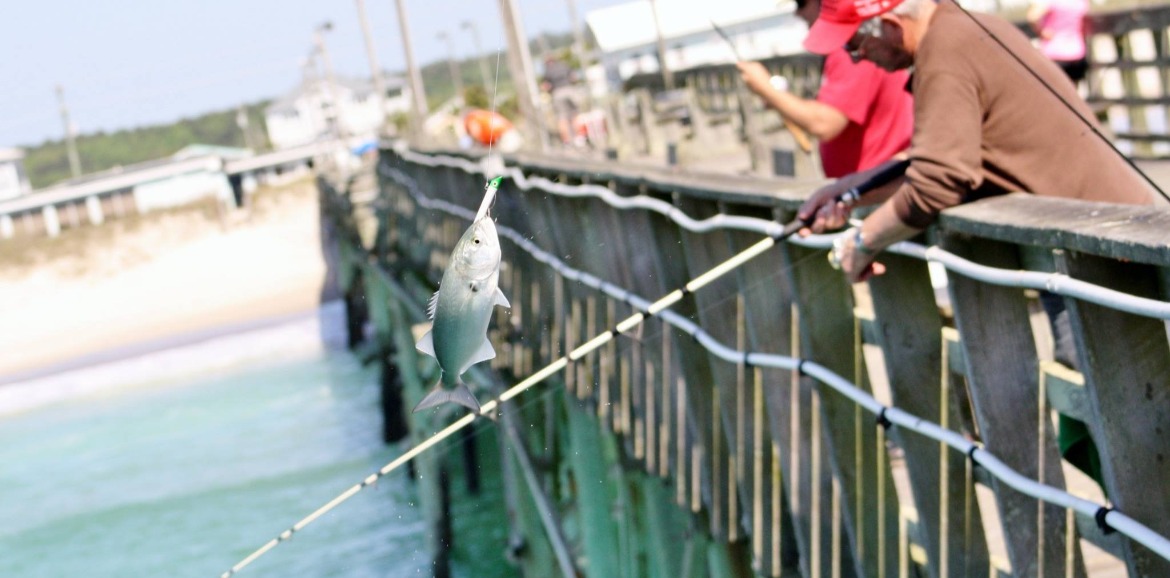 Local Charters
If you're looking for some real fall fishing excitement, there is nothing like the thrill of charter fishing. Topsail Island has a large professional charter fishing fleet. No matter what type of adventure you're looking for, there is a charter for you. Offshore, inshore, half day, or full day trips are all available. Below you'll find links to great resources all dedicated to Topsail Island charter and fishing boats.
Queen Jean Fishing Charter
This charter boat offers an array of fishing charters. There are half-day, evening, and kids fishing adventure trips. Queen Jean's friendly staff will make sure you have a wonderful time on the water. This boat is a great way for the novice fisherman to explore the waters off of Topsail Island. With reasonable prices and short trips, it is sure to be a family favorite. The boat is also equipped with a snack-bar which sells drinks, deli sandwiches, burgers, and beer. Coolers are allowed.

Topsail Charter Fishing
This a great one-stop-shop for a variety of local charter boats... From chartering an inshore boat to an offshore adventure, the Topsail Charter Fishing website provides a portal to dozens of great boats, captains, and adventures. There are charters to fit any size party, experience level, or budget. If you have your own boat, you can even hire a local guide.
Are you ready for your fall fishing adventure? If you are it is the perfect time to give one of our reservationist a call at 910-328-3400 Remember we have a large selection of Oceanfront properties. Yes you guessed it you can walk right out the front door and be surfcasting within minutes.

Comment on this post!