Everything You Need to Know About Fall Fishing on Topsail Island
Posted On Monday, September 23, 2019
---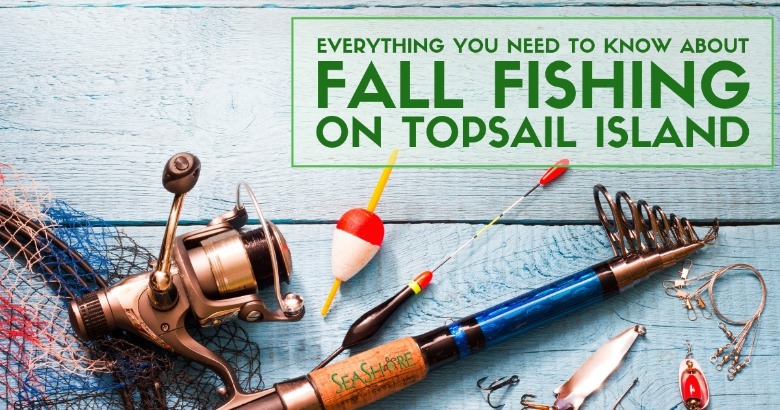 Fall is here and on the North Carolina coast that can only mean one thing… fall fishing! Sure, the temperatures might be starting to cool off with the arrival of fall, but the fishing is heating up. If you love fishing, and especially love fall fishing there are few places on the Carolina coast as accessible and fun to fish as Topsail Island. This week we have all the information you need to have an exciting fall fishing vacation on Topsail Island.

Why Fish Topsail Island?
Coastal North Carolina is a fisherman's paradise. Topsail Island is close to the warm waters of the Gulf Stream and surrounded by cooler inshore waters. It's almost as if Topsail Island was virtually made for the angler. With each new season, a new and exciting fishing opportunity presents itself. Fall is no exception.
In the Fall, sheepshead, red drum, black drum, bluefish, trout, striped bass, and sailfish are abundant off our shore. Of course, these are just a few of the fish you'll find. Our quiet inland waters are just as exciting places to fish. Local creeks and marshes are the perfect habitat for flounder, trout, or red drum. Go ahead and get the grill ready! Here is everything you need to know about fall fishing on Topsail Island.
Fishing License Requirements
Don't forget, the first thing you need to do is to get a North Carolina fishing license. Visitors with the exception of those fishing on piers or charter boats are required to have a valid North Carolina fishing license. For more details and current licensing requirements Click here!
Surfcasting
Don't own a boat? No problem! Welcome to the exciting sport of surfcasting. Surfcasting is an easy and economical way to fish on Topsail Island. If you've never fished before, this is also an easy method of fishing to learn. Surfcasting is fun for all ages and skill levels.
For those of you who are new to fishing, surfcasting is a form of fishing you do from the beach or a few yards out into the surf. You've probably seen folks along the beach with their rigs set up. The best part about this is you can come to the beach and fish while the kids play.
With so many great beaches on Topsail Island, you have an almost unlimited number of places to fish while enjoying a day on the beach. Need gear? Don't worry, there are plenty of local shops on Topsail Island to help you get set up for a day on the beach. Topsail Island has a wonderful local fishing community so don't be afraid to approach one of the local anglers.
Local tip: the far south end of the inlet is a hot spot for red drum, speckled trout, and flounder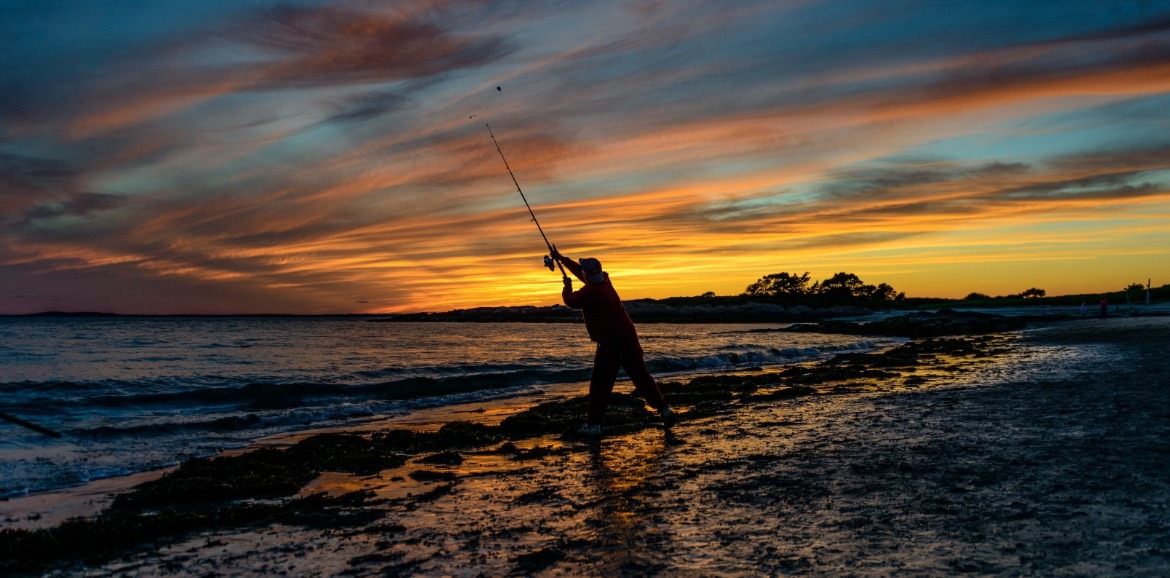 Pier Fishing
There are three piers on Topsail Island. Each pier has its own distinct personality. However, all the piers have a family-friendly atmosphere and offer anglers all sorts of exciting angling opportunities. Pier fishing is great for novices and experienced anglers alike.
Fishing on Topsail's piers offers anglers exciting opportunities. Piers are generally divided into five zones: Suds, Slough, Sandbar, The Deep, and The Deeper. Different types of fish populate the different zones. Part of the fun of pier fishing is learning to use different rigs in different zones. By moving up and down the pier just a few yards you can experience the thrill of catching something entirely new! The fall fishing season sees large numbers of Albacore, Bluefish, Crocker, Red Drum, and Sheepshead and so much more.
Looking for more information on the local piers? Here is a brief look at our local piers and links to their websites.
Seaview Pier
Located on the northern tip of Topsail Island, Seaview Pier is the perfect pier to visit for those vacationing in North Topsail. The pier features not only great fishing but also an awesome restaurant. The restaurant is perfect for anglers as they will clean and cook your catch to your specifications. Now that is fresh seafood! Seafood doesn't get any fresher than that! For your convenience, there is a full-service bait, and tackle shop, restrooms, and cleaning stations for anglers.
Jolly Roger Pier
Head down to the southern end of Topsail Island and get ready to wet a line on the iconic Jolly Roger pier. Located in Topsail Beach, you'd have to try really hard not to have a great time while fishing on the Jolly Roger Pier. With a friendly and knowledgeable staff, this is the perfect place for fall fishing on Topsail Island. The pier features a snack-bar and a fully stocked tackle and bait shop. Rod rentals are available for reasonable rates. This pier is fully lit at night making it a great spot to enjoy the beautiful night fishing on Topsail Island.
Surf City Ocean Pier
Located pier in the heart of Topsail Island you'll find the Surf City Ocean Pier. This is the island's oldest pier with the original pier having been built on the same location in 1948. That pier survived until Hurricane Fran destroyed it. Rebuilt in 1996, the pier has been owned and operated by the same family since 1973. The pier features cleaning stations, lights, and a fully stocked tackle and bait shop.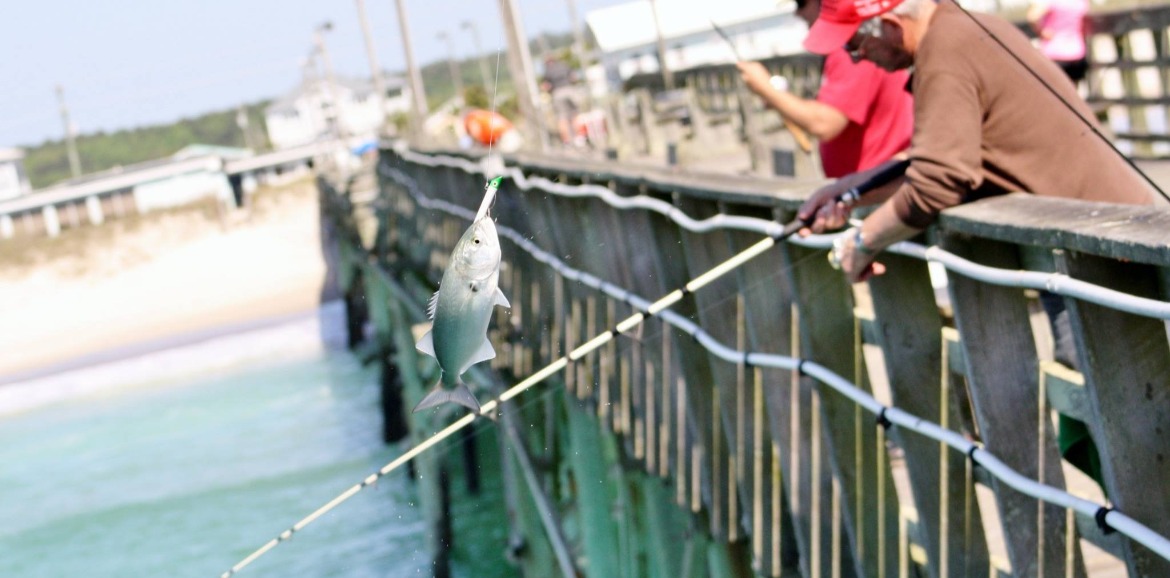 Local Charters
If you're looking for some real fall fishing excitement, there is nothing like the thrill of charter fishing. Topsail Island has a large professional charter fishing fleet. No matter what type of adventure you're looking for, there is a charter for you. Offshore, inshore, half day, or full day trips are all available. Below you'll find links to great resources all dedicated to Topsail Island charter and fishing boats.
Queen Jean Fishing Charter
This charter boat offers an array of fishing charters. There are half-day, evening, and kids fishing adventure trips. Queen Jean's friendly staff will make sure you have a wonderful time on the water. This boat is a great way for the novice fisherman to explore the waters off of Topsail Island. With reasonable prices and short trips, it is sure to be a family favorite. The boat is also equipped with a snack-bar which sells drinks, deli sandwiches, burgers, and beer. Coolers are allowed.

Topsail Charter Fishing
This a great one-stop-shop for a variety of local charter boats... From chartering an inshore boat to an offshore adventure, the Topsail Charter Fishing website provides a portal to dozens of great boats, captains, and adventures. There are charters to fit any size party, experience level, or budget. If you have your own boat, you can even hire a local guide.
There's still plenty of time to get in on all the fall fishing action. Give us a call today at 910-328-3400 and one of our friendly reservationists will be happy to help you find the perfect vacation home for your fishing adventure. Don't forget to ask about our Oceanfront properties, which are perfect for the surf-fisherman in your group. See you soon!

Comment on this post!