Long Term Rentals for Long Term Service: military friendly housing
Posted On Monday, February 8, 2016
---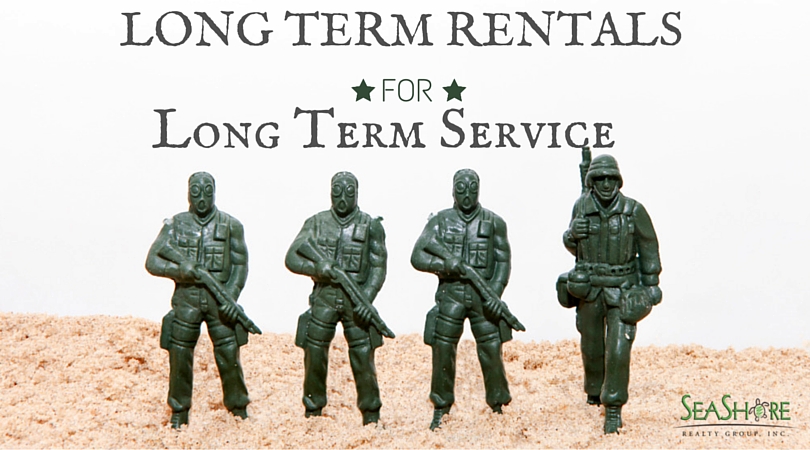 From the halls of Montezuma to the shores of Topsail Island? At Seashore Realty, we not only appreciate your service, but recognize the sacrifice that you and those closest to you make in order to preserve our way of life. Given that our industry is essentially providing a "home away from home" and highlighting the best of our area for visitors, we especially understand and appreciate the difficulty of constantly moving and having to wait for base housing at each station. To that end we have come up with our top three reasons why Seashore Rentals are a great option for interim military housing.
Location, Location, Location
Topsail Island is only a 25 minute drive from MCS Camp LeJeune! Most of that commute is along or near water, which makes it scenic as well as convenient! Speaking of water, Topsail Island is obviously near beaches! What better way to get in touch with the area than having easy access to the ocean for your off hours? Whether that means sun-bathing, surfing, fishing, or stand up paddleboarding, there's no better way to capture the spirit of Eastern North Carolina than spending time in the sand and surf. With the proximity to the beaches comes another aspect of location that several military families have expressed appreciation for. Topsail Island is the perfect location for getting to know the Jacksonville-Camp LeJeune area without being in the middle of it all the time. If you need a couple hours or a day a little removed from all the crazy of acclimating to a new area, just take a quick trip to the beach for a little sanity time!
Flexibility
Another reason renting from Seashore Realty is a great solution is that it gives you flexibility with your timeline. If you want to have a week or two to figure out if living on or off base works best for you, that's ok! If the housing department is taking a while to prep and give you an address on base, we can work with that too! Our long-term rentals are a great option for couples and families looking to take a couple months to settle into the area while living in something that doesn't require a 12 month or longer commitment.
Local Flavor
In both our
Taste of Topsail
and the
ABC's of Topsail
posts we've mentioned that Topsail Island has some of the best sources of fresh seafood in the area! Take a trip out to
Natures Way Farm & Seafood
for your produce and you've got an entire meal that's locally sourced that you can feel good about feeding to your family. However, beyond the kitch-y play on words, living out in our community really is the best way to get to know us. The military offers a wonderful support system to service members and families - and rightfully so. However, North Carolina is known as "the most military friendly state" for good reason. Even if we don't always agree with the political climate, we do pretty universally acknowledge that those who serve us and protect our freedoms deserve respect and honor. So, please, take advantage of us while you're here!
Every area has its own unique quirks, but our is that we would love to make your transition to our community as seamless and painless as possible! Call us today at 910-328-3400 (select the second option to be transferred directly to our rental department) or check out our
website
to see what rentals we have available! We can't wait to help you find the right property for you and your family as you move to what we think is one of the best places on earth!
Comment on this post!