Our Favorite Area Restaurants and Recommendations
The Topsail Area has a great variety of restaurants for you to enjoy, whether you are new to the island or just enjoying vacation. If you are looking to savor some fresh-caught local seafood, in the mood for fine dining with breathtaking water views, wanting to expose your taste buds to something exotic like a Sushi Bar or Thai cuisine, or simply searching for that great little pizza place to bring something home, this island has it all! Listed below are some favorite local spots we recommend based on our personal experiences and tastes, feel free to frequent them or try something different! Click Here for all area restaurants, contact numbers, locations, and websites for your convenience.
Beauchaines 211
The premier fine dining establishment on the Island, offering panoramic views of the Intracoastal Waterway, an extensive wine list, and full-service bar. Enjoy the best in contemporary dining with something for every palette including top-quality hand cut steaks, fresh local seafood such as Stuffed Flounder and Red Curry Mahi, and local favorite Shrimp and Grits, just to name a few of Executive Chef David Longos culinary creations. Beauchaines boasts an intimate atmosphere, knowledgeable wait staff, and seasonal menu with beautiful presentation. Reservations are recommended, call ahead and time your dinner around sunset for a dining experience that will surely be the highlight of your vacation memories on Topsail! Beauchaines 211 website.

Lotus Thai Grill
Authentic Thai cuisine with a twist of Americana and Asian fusion. Located on the mainland this restaurant is known for its great food and calming atmosphere in the typical style of Asian culture. Their imaginative menu, fresh ingredients, and generous portions make this a favorite local spot. From traditional recipes such as Pad Thai, Satay, and Curry dishes passed down from their ancestors, to modern interpretations like Thai chicken wings and Asian BBQ ribs, this restaurant has something for everyone! Lotus Thai Grille Facebook page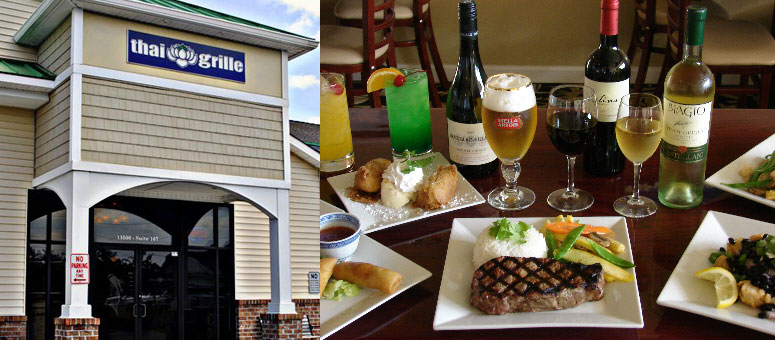 Sears Landing Grill and Boat Docks
Located right before the swing bridge on the mainland, this water-front restaurant can be reached by land or sea by anyone looking for fresh off-the-boat seafood with beautiful views and affordable pricing. Their Coconut Crab soup is a must try! A casual atmosphere, friendly service, and simply delicious food make this the place to go for a traditional Carolina seafood experience. It does tend to get busy, but pass the wait-time in the rocking chairs on the back porch overlooking beautiful marsh views. This restaurant also offers a full-service bar, drive up or drop anchor for great food and a fun time! Sear's Landing Grill website.

Island Delights
A throwback to a good old-fashioned 50s Diner, this restaurant offers fresh hand-pattied burgers, fresh-cut sirloin steak subs, hand-pulled southern style BBQ, and a variety of other sandwiches. The Ice-Cream Bar has 22 flavors of hand-dipped ice cream for you to create your own sundae, malt, shake, or float! Bring the whole family, play your favorite oldies on the vintage juke-boxes, and enjoy great food at cheap prices in the fun atmosphere! This place has been an island staple for 20 years, and is a must visit for the true Topsail experience. Island Delight's website

Maxs Pizza
A Topsail Island landmark since 1985, this restaurant has become a tradition for many families who live on the island or visit each year. The famous pizza is made with homemade dough, special blend of cheeses, and fresh ingredients that keep patrons coming back for more. In addition to great pizza, Maxs offers delicious Italian pastas, subs, and salads in a casual setting. Dine-in or call ahead for take-out. The great food, service, and value make this restaurant very busy in the summertime, but the wait is well worth it! Max's Pizza website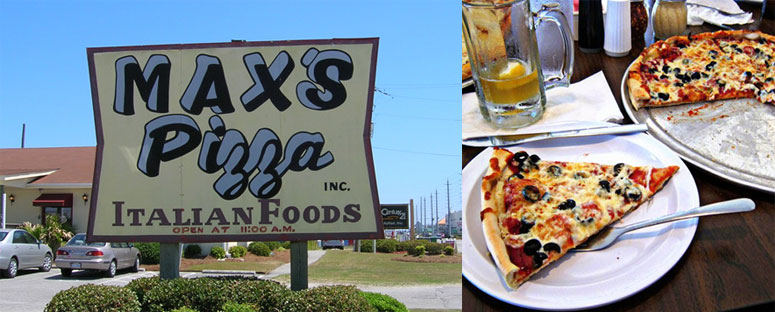 The Beach Shop and Grill
Located on the south end of the island, this restaurant started out in 1952 selling hamburgers and hot dogs. Keeping the tradition of fresh-hand pattied burgers, the Beach Shop and Grille has expanded their menu for breakfast, lunch, and dinner. The owners emphasize using local ingredients to create their rustic, low-country, made-from-scratch dishes. Start out your morning on the island with a great country breakfast with a variety of delicious choices. The lunch menu includes old fashioned burgers, grouper tacos, artisan quality sandwiches, and fresh salads all made with quality ingredients. The restaurant transforms into a fine dining environment for dinner, with Yellowfin Ahi Tuna, Filet Mignon, and Shrimp and Grits to name some favorites, with an extensive wine list for accompaniment. While waiting for a table, the adjoining shop is fun to peruse, make sure to get some famous Beach Dog memorabilia while youre there! The Beach Shop and Grill website

The Bistro
If you are looking for a take on seafood that goes beyond battered and deep fried, The Bistro is a great choice. The focus is on using fresh seasonal ingredients, organic produce, quality meats, and local seafood. Their menu is a contemporary take on classic southern dishes including hand-cut Black Angus Steaks, a variety of fresh local seafood, and even vegetarian options such as tofu and stuffed portobello mushrooms. The Bistro also boasts a hand selected wine list, and a Bourbon menu with over 20 selections. Like many restaurants on the Island, it gets very busy so be sure to call ahead for reservations. The Bistro website