All the Best Things to Do This Fall on Topsail Island
Posted On Sunday, August 22, 2021
---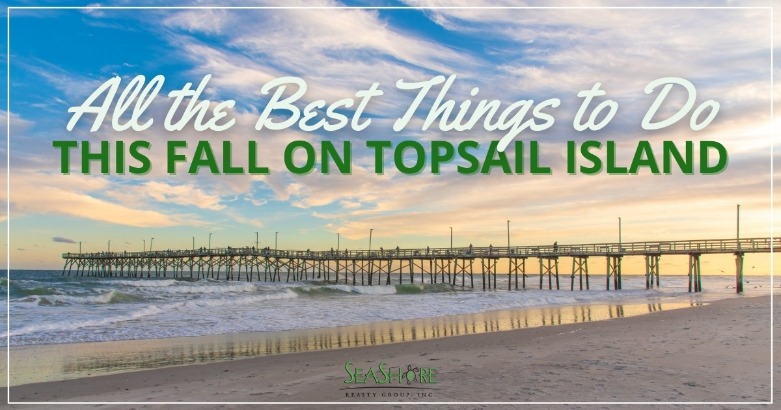 There is just something special about fall on Topsail Island. As we say goodbye to summer, we look forward to cooler temperatures (and of course, great fall events in and around Topsail Island). Whether you love jeeps, fishing or just enjoying the beauty of the North Carolina coast, we have everything you need to make the most of your next fall beach vacation.
Topsail Island Jeep Week 2021
September 17-19, 2021
Surf City, NC
If you have a jeep, and you love the beach...then you need to head over to Topsail Island for the 2021 Jeep Week!! For $100 per Jeep, participants are given 2 Jeep Week badges for exclusive Jeep Week events. From trail rides, to a luau, to a drive-in movie night...your long weekend will be roaring with fun. Registration begins at noon on Thursday, followed by a beach bash and Jeep parade on Friday. Saturday is a busy day, featuring: Fire Prevention Day, a shore fishing tournament, Jeep obstacle course, and a drive-in movie. Sunday will started off with a pancake breakfast, and the weekend will be polished off with a Jeep show & awards ceremony. So put your top down, and let the salt air whip through your hair on beautiful Topsail Island. This is an event for the whole family to enjoy some fun Jeep adventure! Prepare for an island takeover like you've never seen before!
Wilmington River Fest
Date: October 1-3, 2021
Celebrated on the first full weekend of October, the Riverfest runs through Historic Downtown Wilmington on Water Street from the foot of Market Street to Cape Fear Community College. Wilmington is a fun port city and a place we all love to visit for the day. The festival draws tens of thousands of people making it the perfect place to visit, and all the more reason to return to Oak Island after a fun filled day in the city. This free, family-oriented celebration is a two-day event and has grown to be a widely anticipated annual celebration. Riverfest was created in February 1979, by a group of Wilmingtonians interested in showcasing downtown Wilmington and the Cape Fear River. It has since resulted in a cultural street festival that entices locals and tourists alike to our amazing Historic Downtown.
The North Carolina Spot Festival
November 6-7, 2021
Hampstead, NC
The annual Spot Festival is a popular eastern NC event that features everything from fried fish to kiddie rides. For only $8 per plate, you can indulge in a Spot dinner. This includes 2 whole fried Spot fish (very popular with the locals), hush puppies, french fries, and cole slaw...yummy!! If fish aren't your thing, don't worry. There are plenty of other food vendors, and numerous family friendly activities to enjoy. Admission to the festival is only $5.00 per person, and children 12 and under get in for FREE.
A variety of arts & crafts vendors will also have their treasures on display. If you are in the mood for a little beach music, you can be serenaded by the sounds of The White Loafers and The Carolina Band. Be sure to check out the NC Spot Festival website for a full schedule of events. Remember, no pets and no coolers are allowed ....but lawn chairs are encouraged!

2021 Autumn With Topsail
October 15-18
Topsail Beach, NC
Started in 1988, The Autumn With Topsail Festival is held on the grounds of the Historical Society of Topsail Island and the Assembly Building (which also houses the Missiles & More Museum in Topsail Beach, NC). The festival features a juried Artists' and Crafts Court with over 120 regional artists displaying and selling their work. Enjoy exciting live musical entertainment, a variety of amazing food with beer and wine, inflatables and crafts for children, and much more!

Are you ready for another beautiful fall on Topsail Island? Have you planned your visit? if you haven't, now is the perfect time to plan a fall vacation. The weather is great, the crowds have thinned and there are loads of fun things to do and see. What are you waiting for? Call us today at 910-328-3400 or click the button below to find your dream vacation home.
Comment on this post!