5 Fun Coastal Crafts That Will Make Your Holidays Sparkle
Posted On Monday, December 12, 2016
---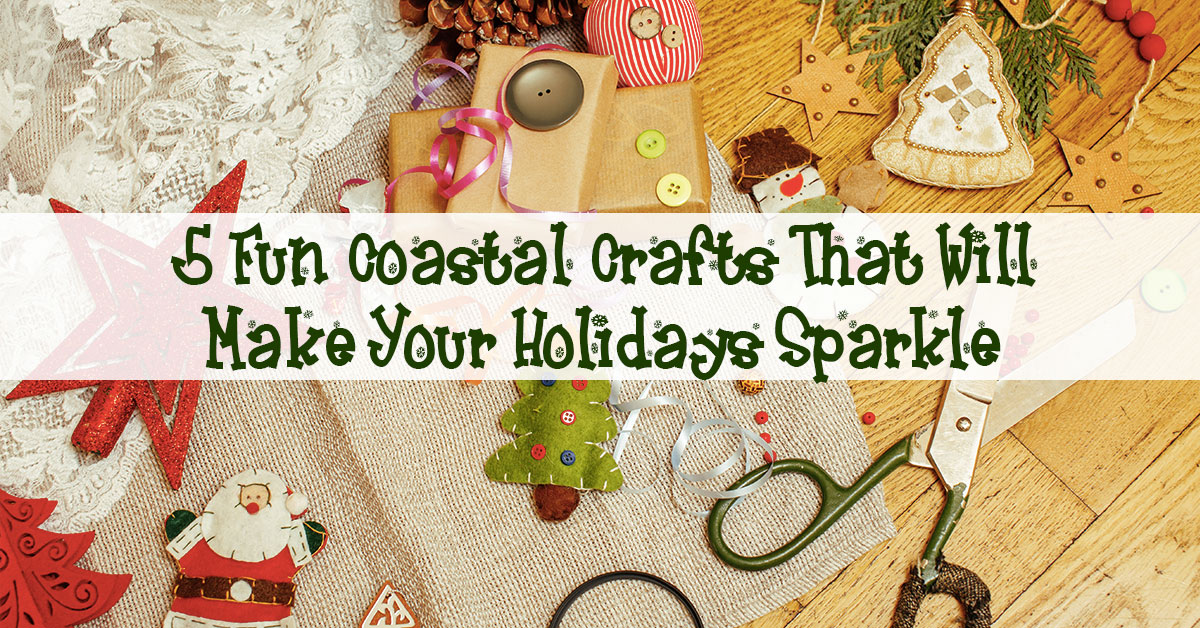 While the family is gathered together for the holidays, it is the perfect time to break out the hot glue gun and some glitter...and create some awesome coastal crafts. Let your
Topsail Beach vacation
inspire a creative spirit, and DIY your way to more fun and festive Christmas season. Whether you would like to add a little beachy fun to your holiday decor, or maybe you are looking for the perfect handmade gift for someone on your shopping list...these fun and easy craft will be the perfect addition to your December plans. Get ready to make your holiday sparkle!!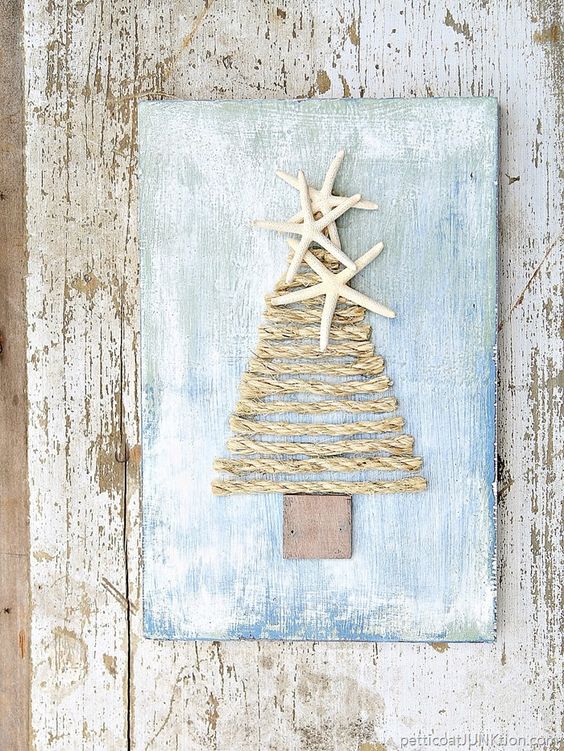 This super cute craft can be hung on the wall or set on a fireplace mantle. It looks more complicated than it actually is, and the great part about it is that most of the supplies you need can be found at the local home improvement store. To achieve the "white washed" look that is shown in the picture, you will need a base color of paint and white or off-white paint. If you want to do one stop shopping, pick up sample paint colors at Lowe's (there is one located in Hampstead, for those of you visiting Topsail). The home improvement store will also carry small 24" cuts of plywood in the lumber section, or if you want to make multiple trees, you can purchase an entire sheet of plywood. Either way, Lowe's will cut your lumber to any size you desire for a small fee (normally the first two cuts are free). If you aren't sure what size to make, try 18" x 24". Paint your board with the base color of your choice, and let dry. Then, paint with the white/off-white paint...applying sparingly and allowing the base color to show through. If you want a distressed look, then you can use some sandpaper and sand the white paint. Cut sisal rope into various lengths, and arrange in the shape of a Christmas tree. Use a hot glue gun or a staple gun (whichever you have) to attache the rope. For the base of the Christmas tree, ask the home improvement store if there is a little scrap of wood that you can have. If not, a small piece of cardboard or burlap would work. If you want to get really beachy, paint on a thick layer of glue for the tree base...and sprinkle with sand. Then shake off excess sand! If those ideas don't work for you, then use some brown paint, and paint on the tree base. Now it's time for the stars! There are several great stores in Topsail where you can find starfish! Add one or three to the top of your sisal rope tree. If you have some seashells that you found during your Topsail Beach vacation, you can add those too...using a hot glue gun.
Supplies Needed:
Board
Sisal Rope
2 colors of paint
Paintbrush
Starfish
Hot Glue Gun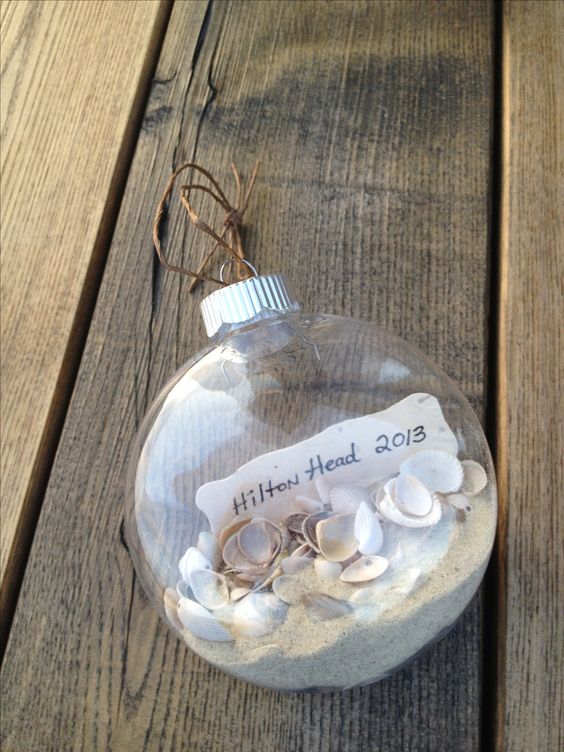 What a great way to remember your trip to Topsail (not Hilton Head...Topsail Beach is way better)! This ornament is so easy to make, and will make the perfect addition to your tree. Purchase clear glass ball ornaments, and fill will several spoonfuls of sand. To make this job a breeze, take a piece of paper, and shape into a funnel. Use your paper funnel to add sand to the ornament. Next, add teeny tiny shells that you found on the beach at Topsail. On a small stripe of paper, write "Topsail Island" with the year, and insert into the ornament. Add a little piece or ribbon or twine to the ornament hanger...and TA-DA! Your own personalized vacation memory ornament! Just an idea...gather your supplies on your next Topsail Beach vacation, store in zip top bags, and save for next Christmas.
Glass Ball Ornament
Sand
Extra Small Shells
Small Slip of Paper/Pen
Ribbon or Twine
"Oh, how cute!!" That's what your friends and family will say when they see these adorable snowman clam shell ornaments! Collect clam shells during your beach vacation...or
buy fresh clams
for a delicious Clams Linguine dinner and save the shells for your craft. The hardest part of this craft is drilling holes for your ornament. However, you could scout the beach for scallop and clam shells that already have a hole that nature created. To begin painting, apply a coat of dark blue paint to each shell and allow to dry. Once dry, dip a tooth brush in white paint and "splatter" the paint onto the shells. You may want to wear a pair of disposable gloves for this part of the project. Hold the toothbrush, bristle side down, and rake your thumb over the bristles. The white paint should "splatter" onto the shells, creating the snow. Repeat this step until you have the desired look. Once dry, paint a semi-circle of white paint at the small end of the shell to make the snowman face. You may need several layers of white. Next, dip the wooden end of your paintbrush into black paint and make the eyes and mouth. You will need to decide which kind of face to make before you start. Then, add an orange triangular shaped "carrot" nose. You also have the option to add earmuffs or pink rosy cheeks. Add some ribbon or twine for your hanger, and now you have one of the cutest snowmen ever created...and he won't melt!!
Clam or Scollop Shells
Drill with small drill bit
Paint: dark blue, white, black, orange, red
Small paintbrushes
toothbrush
ribbon or twine
The soft glow of white Christmas lights is so beautiful. But when you add seashells...it becomes something spectacular! This craft will add a unique touch of beach decor to your holiday flare! Purchase a strand of white lights in your choice of color (green and white cords are easiest to find). Then, hot glue your coastal treasures to the lights. And just like that, you have a one-of-a-kind strand of lights to add to your tree or mantlepiece!!
Strand of Christmas lights
one seashell per light
Hot Glue Gun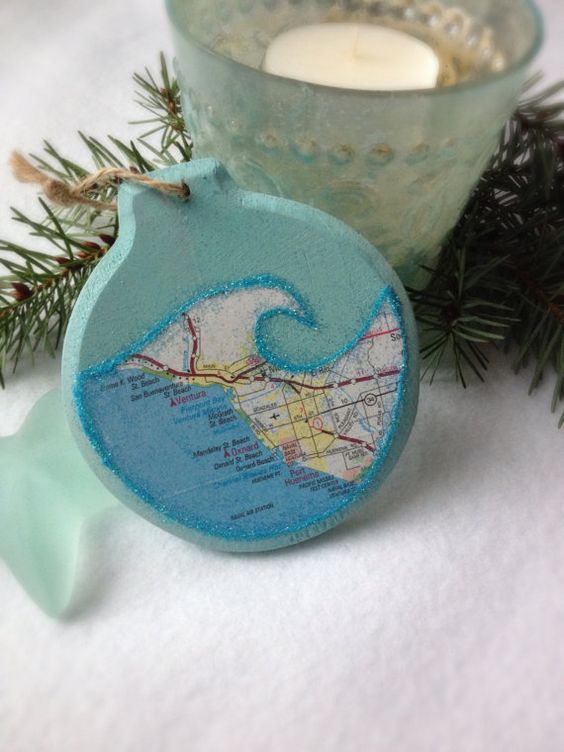 Want a coastal memory that can adorn your tree year after year? Then this easy to make ornament is just the thing you are looking for. Simply paint a blank wooden ornament in the color of your choice. Then, cut out the shape of a wave from a local Topsail map, and trim it to fit the ornament. You will then need some
Mod Podge
to adhere and seal the map to the painted ornament. Now, you will want to outline the wave using a glitter glue pen (Yay!! Glitter!!!). If you have to have a few shells that you collected from the beach, especially if one already has a naturally made hole in it, and attach it to the ornaments jute hanger! What a great gift for your loved ones who share your Topsail memories! Don't want an ornament? Then make it into a magnet!!!
Wooden blank ornament (available at craft stores)
Craft Paint
Paintbrush
Scissors
Mod Podge
Glitter Glue Pen
Allow the charm and beauty that surrounds Topsail Island to inspire some creative gift-giving and holiday decorations. And if you are having trouble remembering the feel of soft ocean breezes and the gentle hum of the waves...then maybe it is time for you to book a Topsail getaway as soon as possible!! The friendly folks at SeaShore Realty would be happy to assist in finding the perfect beach vacation rental for you and your family!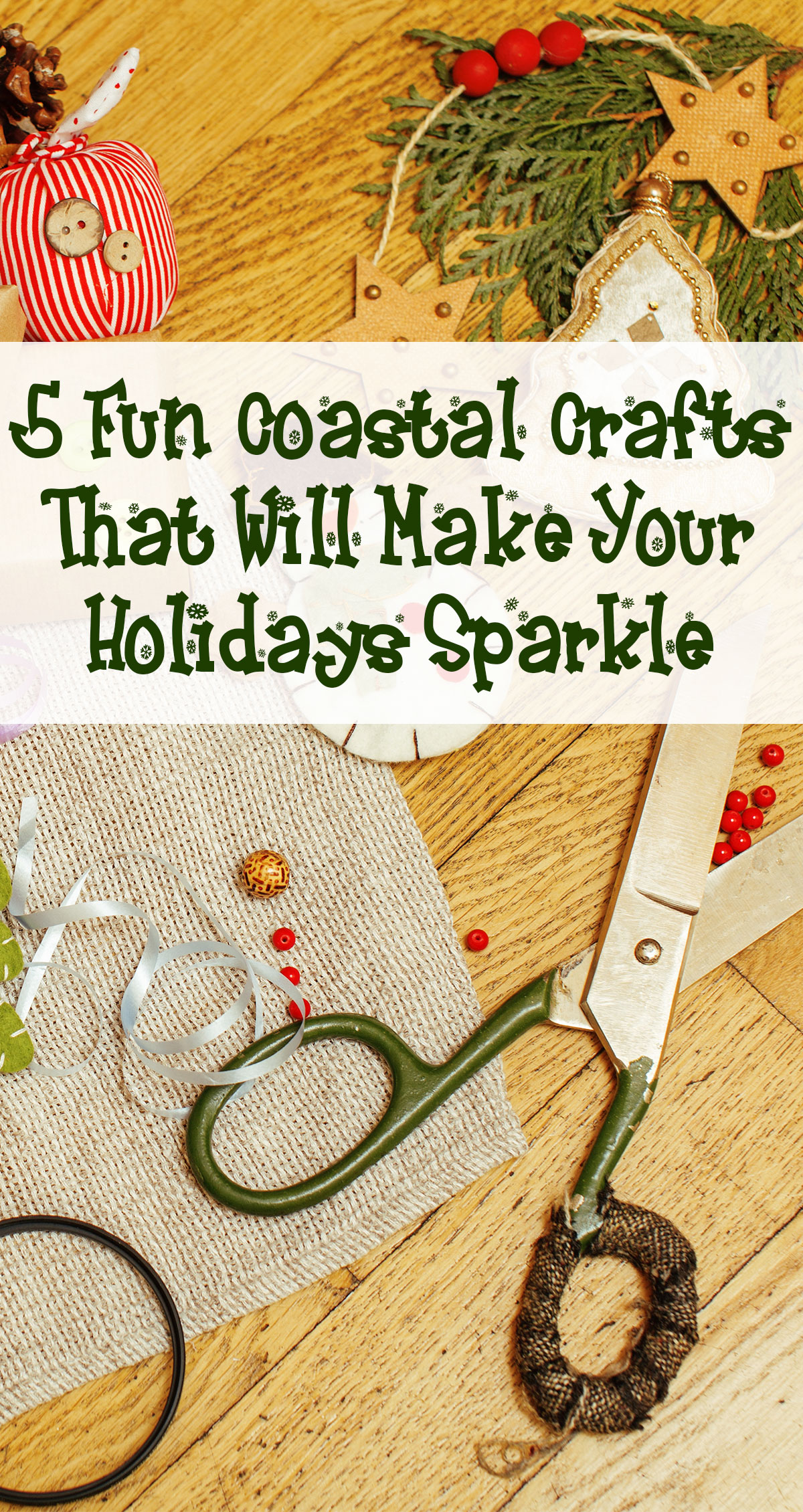 Comment on this post!