Everything You Need to Know About Kayaking
Posted On Monday, May 11, 2020
---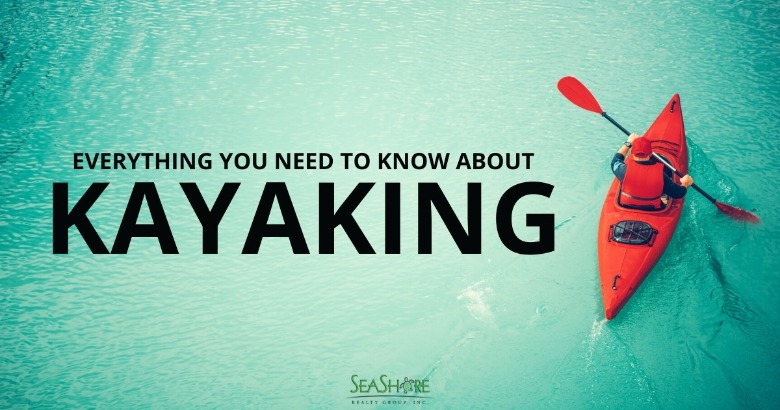 If you are looking for something fun to do this spring and summer than look no further than learning to kayak. kayaking is one of the most exciting and fun ways to explore the waters in and around Topsail Island. Kayaks have lots of advantages over boats or sailboats. This week we have everything you need to know about learning to kayak this summer on Topsail Island. So grab a paddle and lets hit the water with one of the best social distancing activities of the summer.
Three reasons you'll love kayaking
Freedom to explore-
Kayaking allows you access to places you can't get to with a boat or sailboat. Since kayaks have a very shallow draft, in fact only a few inches are needed for most kayaks. Have you ever wanted to see those quiet estuaries or shallow creeks? If so a kayak is a perfect way to see those out of the way places.
Fishing is better on a kayak-
If you love to fish than you are going to love the access that kayaking gives you. Whether you want to head out into the open waters or head into shallow rivers and creeks, a kayak will let you search for the "big one". Kayak fishing is getting more and more popular and it is easy to see why. Paddling on the calm waters around Topsail Island all while fishing, that sounds like the perfect way to social distance!
Great exercise-
Staying active is fun and easy while kayaking. Not only are you going to love exploring the waters of Topsail Island you will also love the way kayaking shreds calories, helps your cardiovascular system, is low impact, and well the benefits just keep coming. The bottom line is there are few ways to enjoy a day on the water that are as healthy and good for you as kayaking
Essential items for a day on the water
You're going to need to do some light packing before your great kayak adventure begins. All the essential equipment will be supplied by the rental company (boat, paddle, life jacket), but you will be responsible for providing a few other things that will ensure you have an enjoyable kayaking experience.
Here is a list, detailing additional recommendations for a great day on the water:
Water! Bring plenty of bottled water to stay hydrated!
Snacks. You're going to need to replenish those calories you've burned.
A Towel....it's a great cushion for your backside, and you will probably get wet.
Wear comfortable clothing & appropriate footwear (no flip-flops).
Pack a light weight, water resistant jacket.
Wear a brimmed hat to protect you from the sun.
Sunscreen
Sunglasses (polarized if possible)
Attach a whistle to your vest for an emergency signal.
Camera/phone.
A waterproof bag or container to hold keys, phone, camera, etc.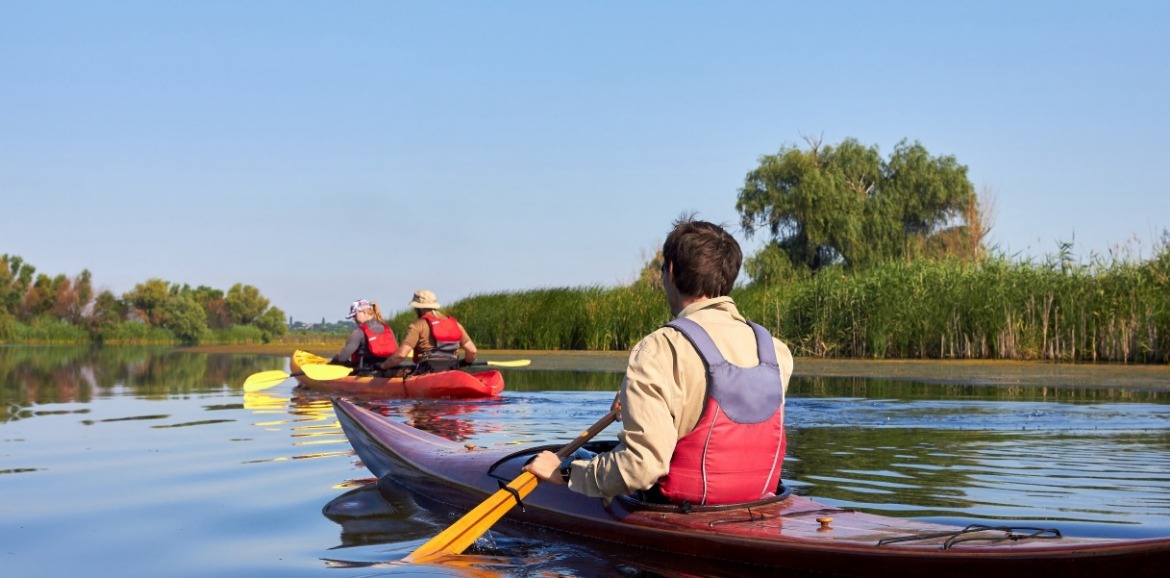 How to have a great day on the water
If you are new to kayaking, then your rental company will be happy to explain anything you need to know about paddling. But here are a few quick instructions to get you started.
Wear your life jacket while in the boat. It may make for some weird tan lines, but your safety is more important. Children must have their life jackets on at all times.
Sit in your kayak on dry land, and make adjustment to the seat and feet rests. Make sure they are in a comfortable position before you put the boat in the water.
To launch, gently place your kayak perpendicular to the waters edge. You will want the rear of the boat still resting on boat ramp/beach. Slowly enter the boat to sit, using your balance to keep from tipping. You should now be able to scoot to a full float (or have someone give you a little push).
Hold your paddle with a slightly greater than shoulder width grip. The cupped side of the paddle should be facing you, with the longest side of the paddle on top. Some paddles can be adjusted to give you different paddling angles. Paddle in a right, left, right fashion...keeping your shoulders back and elbow close to your body. Long even strokes will glide you effortlessly through the water.
Summer is right around the corner. Water temperatures are warming up, the days are getting longer and there is no better place to practice a social distancing than the beach. Give us a call today at 910-328-3400 to speak with one of our friendly reservationist of click the button below to start planning you 2020 Topsail Island beach vacation.
Comment on this post!