How to Pack the Most Perfect Picnic Basket, NC Style
Posted On Monday, February 27, 2017
---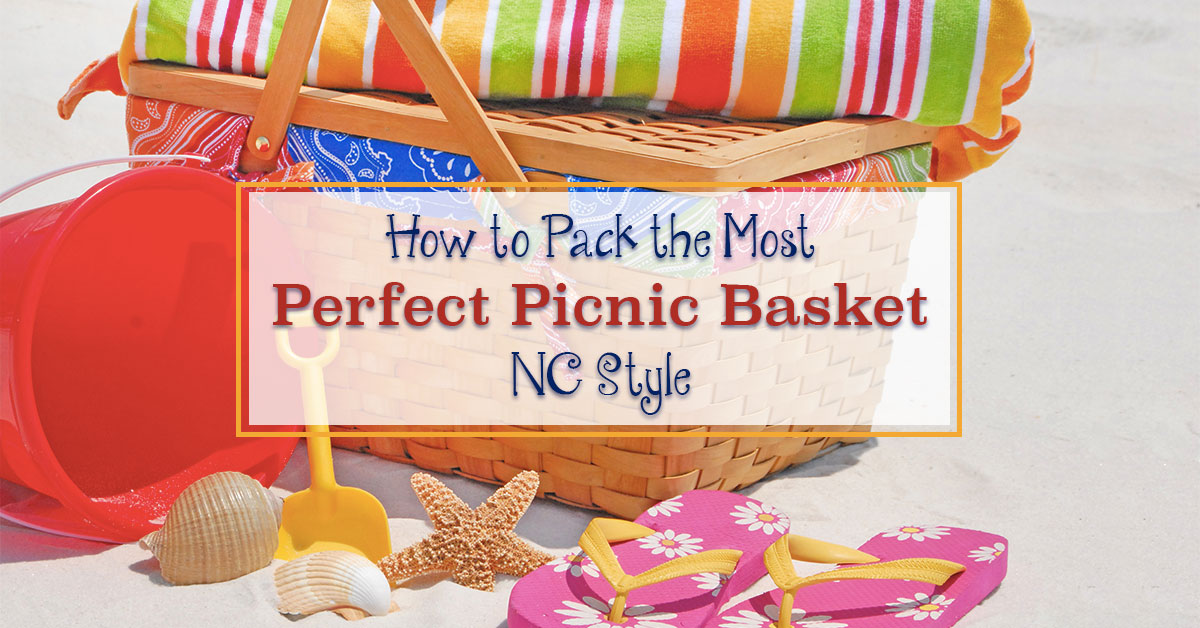 Our weather here in eastern North Carolina is perfect for picnics nearly year-round. With mild Winters, warm Springs and Falls, and hospitable hot Summers....it is always the right time to pack a picnic basket and head to Topsail! Our beaches offer a great place for your family to relax and unwind, spread out on a picnic blanket in the sand or at a convenient picnic table. Maybe your prefer to picnic from the trunk of your car or the tail gate of your truck? No matter how you choose to picnic, we want to help you craft the perfect picnic basket...North Carolina style!
Below, you will find our recommendations for not only quintessential picnic items, but also some of our favorite southern traditions. Grab as many locally sourced or NC traditions to fill your picnic basket...and your belly...as possible!

Sandwiches and Such That Will Make You Drool
Go beyond ham and cheese, and take your picnic to a whole new level. Try one of these delectable sandwich fillers that are truly a southern tradition. And if you are ready to go beyond white bread, try using a croissant or a low-carb wrap!!
Traditional Southern Chicken Salad
Do yourself a huge favor use the Mt. Olive Sweet Pickle Cubes that are recommended in this recipe. Mt. Olive Pickles is a North Carolina based company, and they make delicious pickles!! The recipe doesn't specify a brand of mayonnaise, but if you want to stay true to southern products...then reach for Duke's Mayonnaise. This company was founded in Greenville, SC...100 years ago!!
Pimento Cheese
Yummy, sharp and smooth Pimento Cheese. It can be enjoyed in so many ways...on a sandwich, spread on crackers, or inside of celery sticks. This spread is rather easy to make, and we have found a great Southern Pimento Cheese recipe for you, if you would like to try making a batch from scratch. If you prefer to buy it already prepared, then we would like to recommend Ruth's Pimento Cheese Spread. You should be able to find this southern staple at most grocery stores in southeast NC.

Snack Your Way to the Best Picnic Ever
Nabs
If you aren't from eastern NC, then you may not know what Nabs are. So allow me to translate. Old timers will say, "I'm gonna stop and get me a Nab and a Pepsi." Simply put...Nabs are package crackers that consist of 2 cheese crackers with peanut butter sandwiched in between. The southern choice for Nabs is Lance's Toast Chee Crackers with Real Peanut Butter.
Fruits & Veggies
Check the local farmers market or produce stands for the freshest fruits and vegetables. During the spring, your can find fresh local strawberries in eastern NC. Then in the summer, it will be peach and watermelon season. Here in eastern NC, we also have a variety of seasonal veggies available. Tomatoes, cucumbers, greens, zucchini, corn, beans, okra...the list goes on and on. Get creative, and see how many fresh and local fruits and veggies you can squeeze into your picnic basket!
Chips
Everyone has their crisp and salty preference! But if you are reaching for a southern product that has gained huge popularity in the southeast, then reach for "Dirty" Potato Chips. And if you like things a little on the spicy side...then grab a bag of "Hot Fries".

How to Quench Your Thirst on a Southern Picnic
Sweet Iced Tea
Many would agree that there is an art form to making the perfect pitcher of Sweet Iced Tea. The key to sweet tea perfection is that it is brewed strong, with a balance of sweetness added. You will thank us later for this easy recipe:
Boil 3 cups of water.
Turn off heat and add 2 bags of Lipton's Iced Tea bags. (These are larger than your average bag for hot tea.)
Allow tea to steep for 15 minutes.
Add steeped tea to a 2 quart pitcher.
Add 2/3 cup sugar (more or less to desired taste), and stir.
Fill remainder of pitcher with cold water. Stir.
Refrigerate.
Served over ice with lemon (if desired).
Cheerwine
Have you ever heard of Cheerwine? It is a burgundy-red soft drink...a bubbly cherry concoction, named for it's appearance. Cheerwine was established in 1917 in Salisbury, NC. Here is another company that is celebrating 100 years, and is also based in North Carolina!
Pepsi
Maybe you never heard of Cheerwine, but you certainly have heard of Pepsi!! Did you know that New Bern, NC is the birthplace of Pepsi? Yes....one of America's favorite soft drinks was invented right here in eastern NC!! That makes it a picnic staple for any southern retreat!
Local Wine
If you are over 21, and want a truly special southern treat...then try one of our eastern NC wines. There are several wineries operating is the east, and producing a variety of sweet wines. Native muscadine grapes make the perfect base for many of these top selling wines. Here are just a few winery brands to keep an eye out for: Duplin Winery, Silver Coast Winery, Noni Bacca Winery, Bannerman Vineyard & Winery...and so many more. If you want to get more information about local wines, stop by Quarter Moon Books & Gifts in Topsail Beach, or head over to Swingbridge Beer & Wine in Surf City. They have wine experts who would be happy to chat about NC wines with you!

Treats That Will Satisfy Your Sweet Tooth
Local Baked Goods
Want something that is fresh and locally made in your picnic basket? Then visit The Corner Sweet or Sugar Island Bakery, both located in Surf City.
Another southeastern NC saying that you would hear from an old timer would be, "Bring me a MoonPie and an RC Cola!" It was a quintessential snack at the local country store for many years. Today, you can pick up MoonPies in several flavors, and in grocery or convenience stores. If you have never tried a MoonPie, select the traditional chocolate flavor!
You are now ready to pack the perfect southern picnic basket! Gather your supplies, and get ready to an outdoor dining experience that you won't soon forget! We hope that your picnic will find it's way to Topsail Beach, and that you will plan to stay awhile! The rental team at SeaShore Realty is just a click or a call away...ready to help you with all of your Topsail Island vacation rental needs.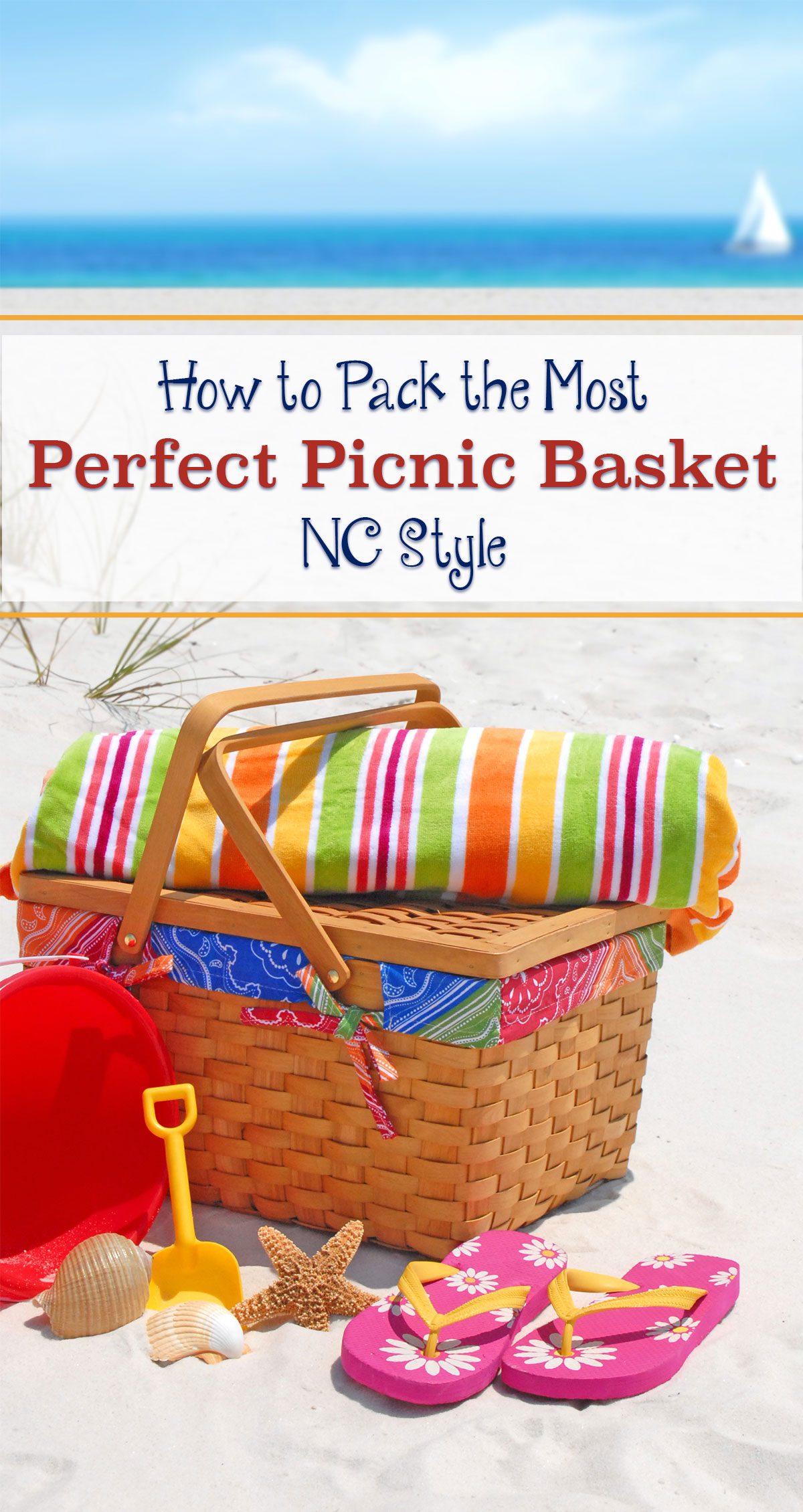 Comment on this post!