How to Plan A Fall Seashell Scavenger Hunt on Topsail Island
Posted On Monday, October 7, 2019
---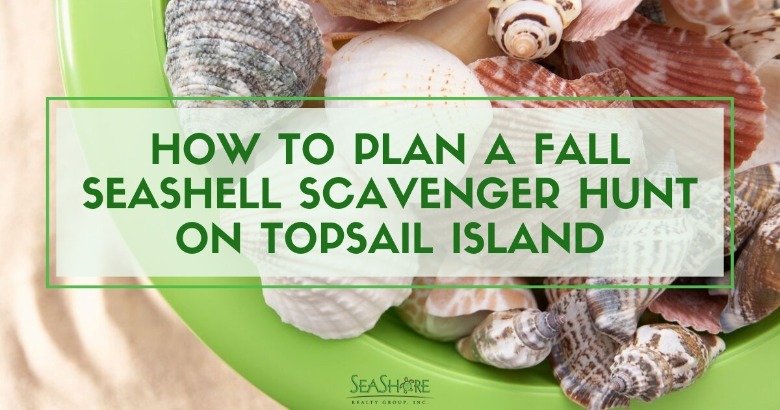 Fall on Topsail Island is a beautiful time of year and one of the best times of the year to visit Topsail Island. Fall is perfect for several reasons. The crowds have thinned, the beach is beautiful, the temperatures are perfect, and it is even the best time of the year for beachcombing and seashell hunting. This week we have everything you need to have a family-friendly and fun seashell scavenger hunt. So grab a bucket and get ready for an awesome fall outing on Topsail Island.

What you need
The only thing required for a great day on the beach is a desire to have an adventure. However, there are a few essential items that will make your day on the beach more fun and successful. Here are a few of the items you might consider bringing.

Shovel- Bringing a shovel and bucket is essential. No need to spend a lot on these; an inexpensive plastic set is perfect for the kids and adults alike. A shovel can help dig under the sand to find some different shells
Bucket- A bucket will help you carry all your wonderful shells home with you. Some beachcombers even suggest bringing a net for snatching a shell that may be caught up in the waves. Nets are also helpful as they allow you to rinse the shells off in the surf. If you don't have a bucket you can use an old onion bag, which is perfect as the mesh allows the water and sand to drain out.

Family- And, of course, bring your friends and family. Topsail Island is always best enjoyed with family and friends, plus more eyes are better than one. There are all sorts of great craft ideas that you can make with your seashells that will allow you to have fun mementos of your vacation.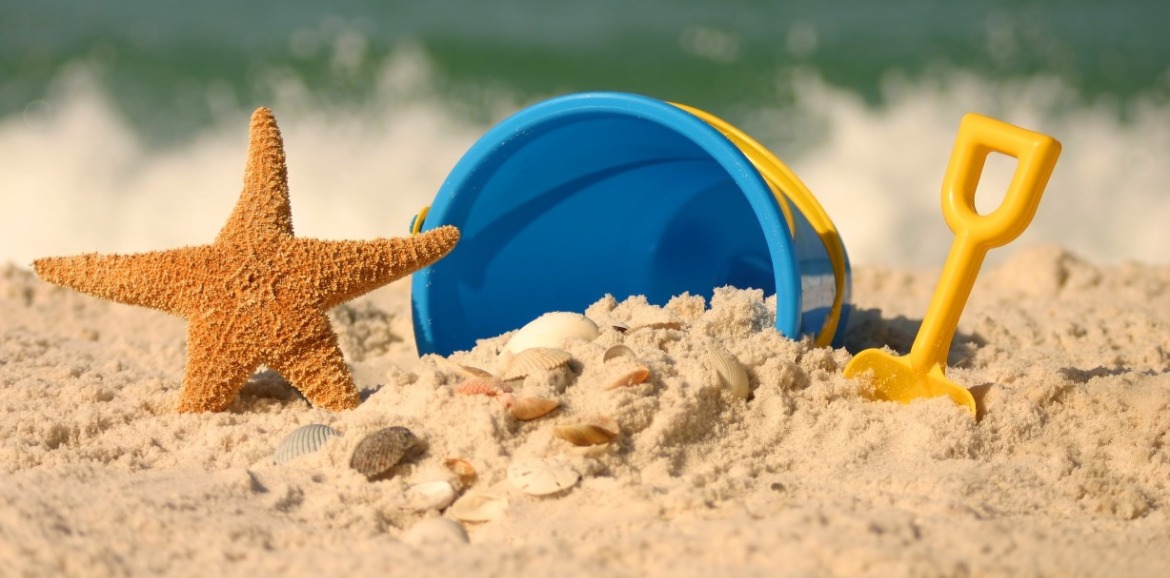 Types of shells you'll find on Topsail Island
Olive Shells- These small gems feature long conical tubes. If you look closely at these long conical shells, you'll find dark purple or pink shades. Olive shells will often have unique geometric patterns or designs.
The Scotch Bonnet- Featuring a distinctive white color with brown specks, this beautiful little fat shell is best known as the official shell of the State of North Carolina. Despite its big status, it is actually a very rare shell. This shell is only about 2" in length, so their size makes them even harder to find.
Whelks- People often confuse Conch and Whelks, but they're actually different shells. Whelks will have a conical shape with a wide opening. On the top of the shell, you'll find wide spirals. These shells are very common along the North Carolina coast. There are three varieties of Whelks. The largest of the three is the Lightning Whelk which can be 15" or larger.
The Channeled Whelk- This whelk has distinctive deep spirals. The Knobbed Whelk looks like the Lightning Whelk with an opening on the opposite side (right side). Queen Helmet Conch- This is what most people think of when they think of a Conch. It has a distinctive large fat conical shape. The Conch can be up to 12" long and heavy. Look for the pinkish-red lips on the opening-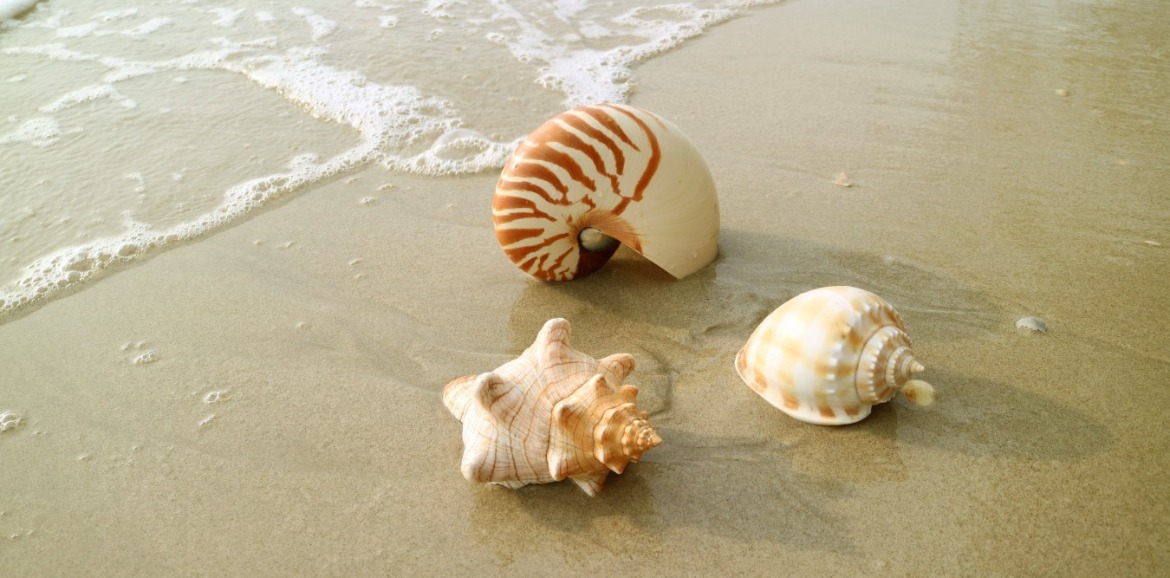 Where to find the best shells
Now that you know what to look for you, need to know where to look for the best shells. Sure you can just walk up and down the beach, but there are a few secrets to finding great seashells that will make your day of shell hunting all the more productive and fun.
Seaweed and Seagrass- A lot of people avoid those ugly piles of seaweed and seagrass, but that is a big mistake as they can be a treasure trove for shell hunters.
Low tides- One thing's for certain the best time to search for seashells and to beach comb, in general, is during low tide. Take advantage of the extra space on the beach. Enjoy the ability to head out far from shore.
Take a night walk- Make sure to hit the beach at night, especially if there is a strong low tide. Look for full moons especially. With fewer folks on the beach and strong tides, it is the perfect time to look for treasures.
Piers- Don't overlook the piers. The pilings create constantly changing sands, which are ideal for the beachcomber who is looking for an easy and convenient location to hunt for shells. Looking for shells along the piers will require a bit more digging and patience as they are popular places, but perfect for those with kids.

Are you ready to plan your fall Topsail Island beach vacation? If you are, there is still plenty of time to book the perfect vacation home. Give one of our friendly and knowledgeable reservationists a call today at 910-328-3400 or click the button below to see our current inventory. You'll be cruising the beach for seashells in know time.
Comment on this post!