Learn How to Get the Most out of Your Beach Vacation Rental
Posted On Monday, September 27, 2021
---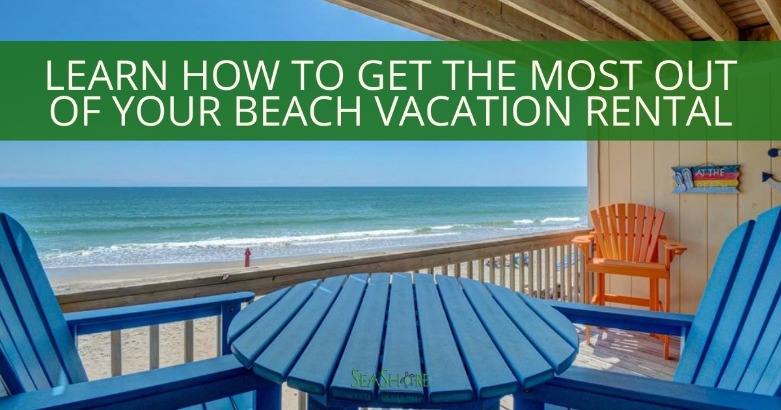 Renting a beach vacation home is a big investment, and it's important that you get the most for your money! In today's blog, you will learn how to get the most out of our Topsail Island rentals.
Unlike a hotel, a vacation home comes equipped with a full-size refrigerator, an oven, coffee maker, pots and pans, dishes, and maybe even a dishwasher.
Upon your arrival to Topsail Island, unpack the car, get settled, and head to the grocery store for that fresh food you couldn't pack in the suitcase. Grab milk for the cereal, some fruit, and some dinner prep items. Eating "at home" will save you tons of cash. At least try to enjoy breakfast and lunch at the rental, plus lots of snacks.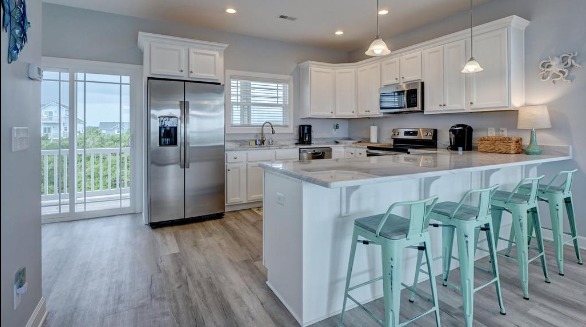 2. Drink your coffee on the deck .... wine too.
Going out for coffee every morning adds up fast. Use your vacation rental's coffee maker and enjoy your brew while watching the ocean waves, looking out over the sound, or while walking on the beach. Along the same lines, a glass of wine at a restaurant often costs the same as a whole bottle at home. Make the most of your rental by enjoying adult beverages back at your home base.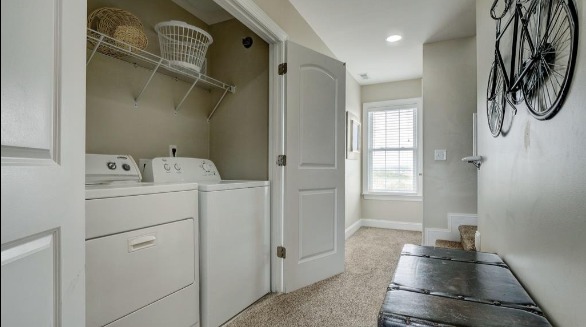 Save money on luggage fees (or just space in the car) by packing just half the stuff and planning to do a load of laundry or two.
Hotels don't usually offer the luxury of a washer and dryer on the premises! Take full advantage of it.
4. Enjoy a fun night in ... on the cheap.
Seashore Realty manges over 100 beautiful Topsail Island rentals. They all come equipped with comfortable couches, televisions, and big kitchen tables ready to host your game night or take-out feast. Plan a game night one evening, or enjoy a beach-themed movie another. Bring your video game console and plug in for a while, or just sit around and reminisce. Vacation rentals feel like HOME.
5. Split costs with another family
Our Topsail Island rentals come in all shapes and sizes. If you like to travel with another family, rent a slightly larger house and split all of the costs with your friends. You can share the cost of the rental, the Travel Insurance, groceries, activities and more.
6. Use all that space and spread out
Have you stayed in a hotel room, where your whole family is crammed into the two full beds with possibly another kid or two on the pull-out couch? No need for that when you rent a vacation home. Spread out. Get a good night's sleep. Put the kids to bed early and stay up a little later to enjoy the evening. No need to tiptoe around ... just like home!
7. Take note of special amenities
Some of our Topsail Island rentals come complete with amazing amenities, like the full gym at the St. Regis Resort condo complex. They have a community pool, the gym, tennis courts, children's playground, grilling area, even a business center (if you simply HAVE to work on vacation).
Some rentals have a private dock or pier (fish! kayak!), while others have a fully stocked game closet. The Seashore Realty website makes it really easy to check off the amenities you crave, and find the homes that best suit your needs.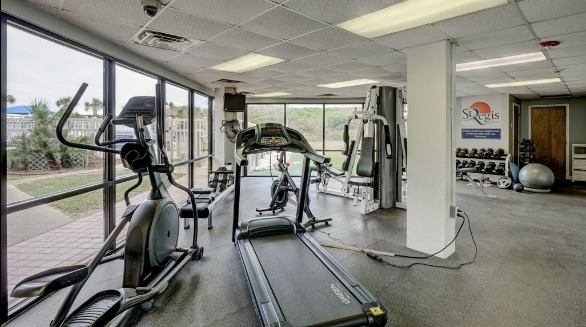 Ready to book your Topsail Island vacation?
We are ready for you! Contact our friendly staff to start planning your next beach adventure today.
Comment on this post!