Say Yes to a Topsail Island Destination Wedding
Posted On Sunday, February 17, 2019
---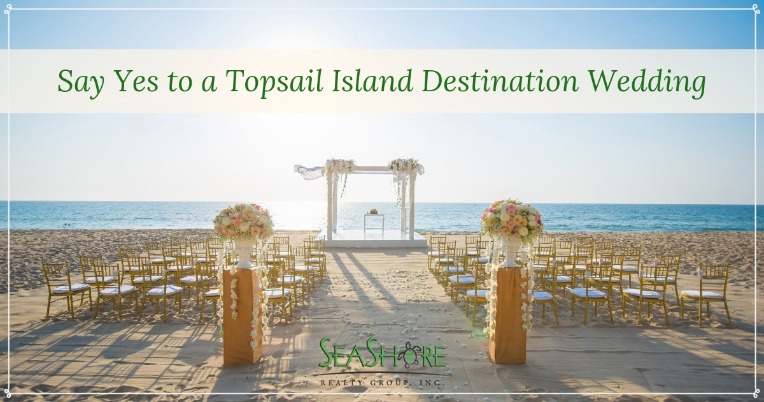 Have you recently said yes? Are you wondering where to have your wedding or maybe planning your honeymoon? How about a Topsail Island beach wedding or honeymoon! There are twenty-six miles of pristine beaches, loads of local resources, and an easy to reach location from almost anywhere on the island to say yes. We have the perfect place for your special day. However, we don't want you to just take our word for it. This week we have everything you need to plan your wedding or honeymoon on Topsail Island.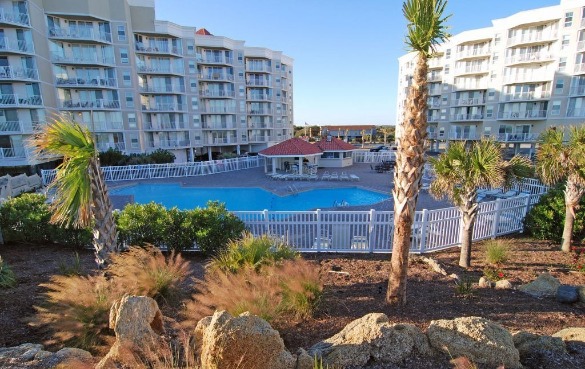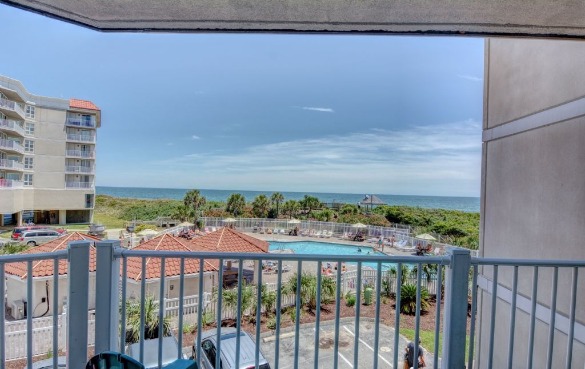 Where to stay Whether you are looking for a romantic honeymoon location for two, or a home perfectly situated for the bridal party, we have a property to meet your needs. Our inventory includes homes all of sizes and locations. All of our homes are well appointed and maintained.
When choosing your home, whether for your honeymoon or wedding, there are several things to consider. Are you looking for a large multi-bedroom home where the entire bridal party can stay or maybe a cozy condo for just the two of you to get away from it all after the stress of the big day? If you need a great location close to the water, we have several oceanfront homes that not only provide breathtaking views but make a beach wedding a breeze. Click the following links to see some of our great inventory.
Don't Leave Home Without It: North Carolina Marriage License
North Carolina, like all states, requires a marriage license be obtained before the big day. Here is what you need to know to obtain a marriage license before your Topsail Island wedding. You can get a marriage license in any county, but you will need to return to that county to have it filed after the wedding. Both applicants must apply in person and be 18 years of age or older. Applicants must provide social security numbers, pay a fee of $60.00 in cash, certified check, or money order.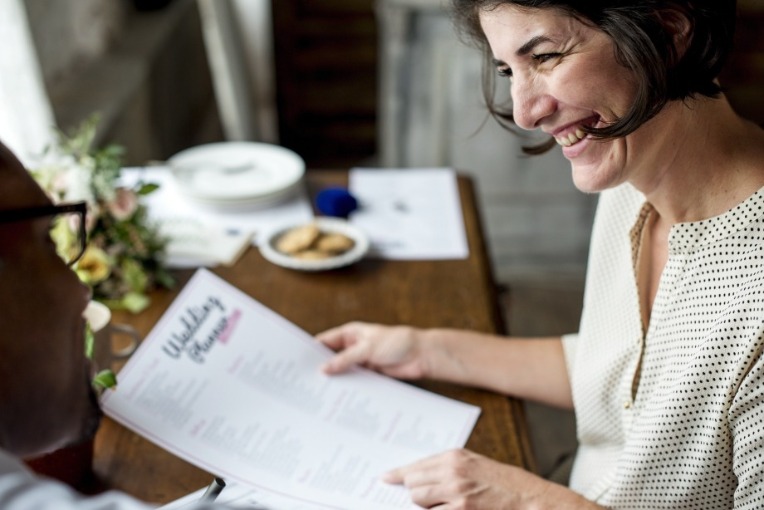 Wedding resources on Topsail Island
Planning a wedding can be a daunting task and at times overwhelming. However, there is no need to panic or worry here on Topsail Island. in the local area, we have everything you need from florists to food and there are plenty of great vendors here to make your wedding a memorable and smooth one. Here are a few tips to help with your planning.
Bakeries
American Dream Cakes - (910)-346-2347
The Corner Sweet - (910)-328-3150
Party Supplies and Rentals
Seaside Linens - (866)-615-4636
East Coast Beach Rentals - (910)-389-0204
Shoreline Party Supplies - (910)-329-4687
L & L Tents - (866)-615-4636
Smith Party & Event Rentals (910)-346-9940
Wedding Caterers
Rick's Restaurant - (910)-327-2300

Rick's Restaurant -(910)-327-2300
Middle of The Island Catering Co. - (910)-256-4273 or (910)-540-1457
Beauchaines 211 - (910)-328-1888
Mainsail - (910)-328-0010
Bon Appetit Catering and Event Planning - (910)-796-0520
Atlantic Coast Catering - James Jason - (910)-431-9334
The Flame Catering - (252)-633-1193
Florist
A Beautiful Event - (910)-327-0040
What's Blooming - (910)-327-3825
DJs
DJ Storm - (919)-272-1892 or (910)-616-1648
DJ Daryl Lucas - (910)-539-6335
DJ Donna Plowman - (910)-340-0455
Photographers
Dee Holland Photography - (434)-917-2233
Lee Bush - (910)-431-7480
Unique Media & Design - (910)-265-7087
Eastern Exposure Photography - (910)-330-0703
Katheryn Batts Photography - (910)-620-2106
RAB Photography - (910)-330-0703
Sara Arwood Photography - (910)-548-4271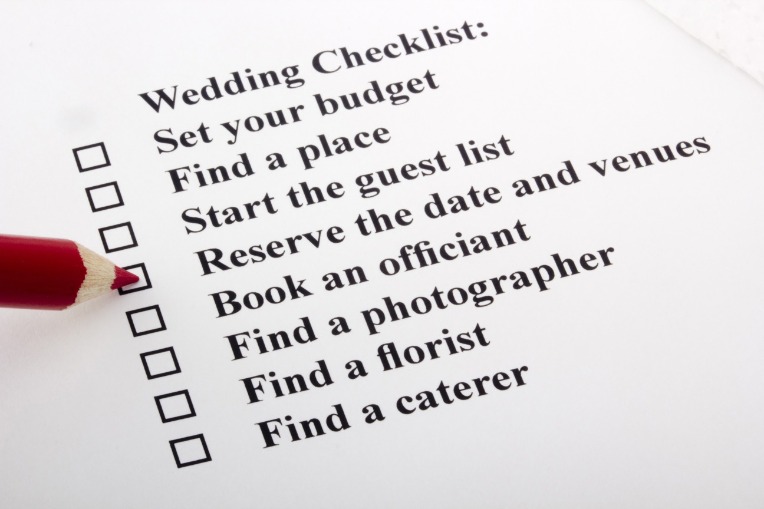 Wedding Checklist
In reality you can make a wedding checklist with a hundred items and you probably should. But hey, this is the beach, and whether you are having a small gathering of your closest friends or inviting your closest five-hundred friends, there are a few critical items you have to do to make sure the day ends in an "I do" and not a disappointment. We've all been to weddings and no matter how well you plan your event things can get overlooked. Here are ten essential items that a noted wedding planner suggested. With this list you're sure to avoid the biggest pitfalls of the day. Don't worry, no matter what, at the end of the day a Topsail Island beach wedding is a great wedding.

The Official- Whether you are having a justice of the peace or a religious wedding make sure to give them a friendly reminder a few days ahead of time. One nightmare story shared with us was the minister forgot to arrive. It was an honest mistake, he just forgot.

The Dress-On the big day make sure to have someone in charge of the dress. Making sure it is clean and pressed, and above all, that it actually gets to the wedding destination.

Reserve Your Location Early-Nothing is worse than having the perfect mate and being unable to have your wedding at your dream location because you didn't book early.

Invitations-A wedding planner mentioned a wedding nightmare. The new couple forgot to send out the invitations. It just slipped through the cracks. Hey, it happens.

Rings-We've all seen it happen in the movies, but it does happen in reality as well. Make sure to have one person in charge of keeping the rings.
Photographer-Make sure to interview your photographer to discuss the pictures you want well before the big day.

Marriage license-Let's face it, without this nothing happens. Sadly some couples forget this critical step.
Restrooms-Beach vacations can present a challenge, but not having restrooms for guests isn't one you want. Make sure to take this into account when planning a beach wedding.
Parking-Make sure you've addressed parking issues. Is there enough? Will you need valets? Is handicap parking available? All these things are important to address before the big day.

If planning your wedding is getting stressful, let us help you relieve at least one small part of the wedding planning. Our friendly staff can help you take the stress out of finding the perfect Topsail Island vacation home for your honeymoon or members of your wedding party. Give our reservationists a call at (910) 328-3400 or go online by clicking the button below.

Comment on this post!