Summer Grilling: 6 Delicious Ideas to Enjoy on Topsail Island
Posted On Monday, July 3, 2023
---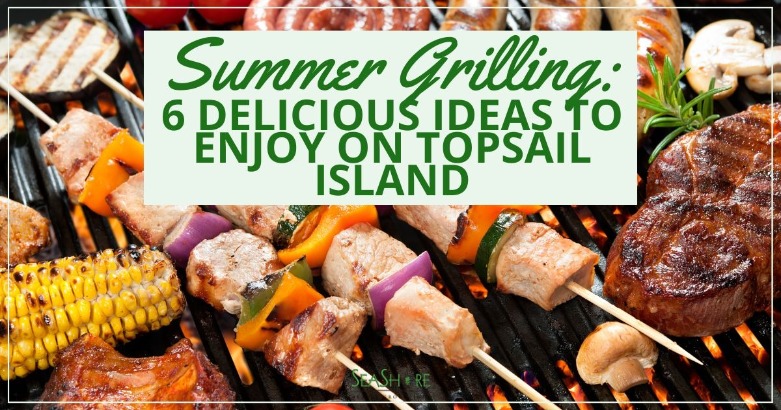 There's nothing quite like the combination of the sun, the ocean breeze, and the tantalizing aroma of food sizzling on the grill.
Whether you're a seafood lover, prefer juicy burgers, or are vegetarian, there are plenty of ways to grill up delicious options to satisfy your cravings. In this blog post, we'll explore some delightful foods to grill on a summer beach vacation on Topsail Island.
Traditional Grilling Delights and Mouthwatering Burgers
Seafood on the coast is the freshest and best tasting you'll find anywhere. It is the perfect place to indulge in grilling some oceanic delights. Take advantage of the local catch and grill up a feast of fresh fish, shrimp, scallops, or even lobster tails marinated in a zesty citrus marinade or simply brush it with garlic butter for a burst of flavor.
Or go with the classic burger or portobello mushroom sizzling on the grill and experiment with different toppings like cheese and bacon or gourmet options like avocado and caramelized onions. Serve your creations on toasted buns and watch them disappear as quickly!
Flavorful Kabobs and Skewered Shrimp
If you like finger food, create your own kabob combinations by skewering marinated chicken, beef, or even tofu with an array of vibrant vegetables such as bell peppers, onions, cherry tomatoes, and mushrooms. Kabobs are not only easy to prepare but perfect for beachside dining.
You can also marinate shrimp in lemon juice, garlic, and herbs and skewer them. Grill them until they turn pink and charred. They are perfect as a main dish, or you can add them to salad or pasta!
Grilled Corn on the Cob
Nothing says summer like sinking your teeth into a perfectly grilled ear of corn. Brush the corn with melted butter, sprinkle it with salt and pepper, and place it on the grill. The heat will coax out the natural sweetness of the corn while infusing it with a subtle smokiness. Serve it hot with an extra pat of butter for a satisfying and comforting beachside snack.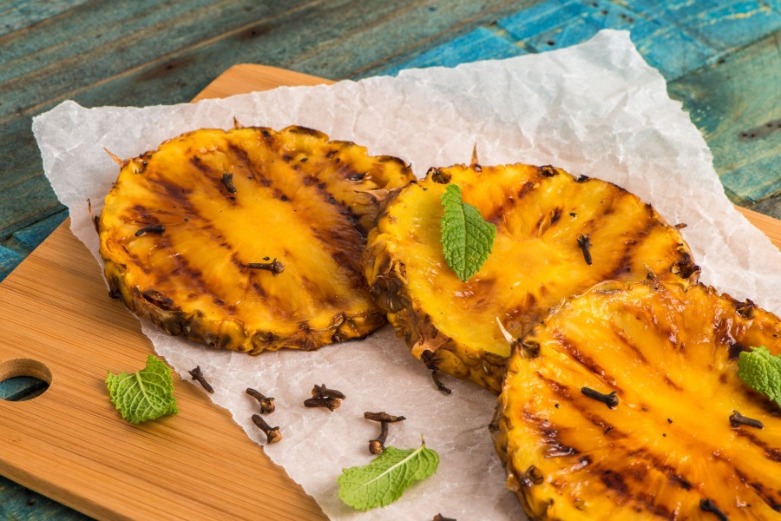 Grilled Fruit for Desserts and Salads
When it comes to grilling, why limit yourself to savory dishes? Grilled pineapple makes for a delectable and refreshing summer dessert. Cut the pineapple into rings, brush them with honey and lime juice, and grill them until they develop beautiful grill marks. The heat caramelizes the natural sugars in the pineapple, resulting in a juicy and slightly charred tropical delight. Serve it with a scoop of vanilla ice cream for the ultimate beachside treat.
Or brush watermelon wedges with olive oil and place them on the grill for something different. Once the watermelon has grill marks, it is perfect to cut up into bite-sized pieces and toss in a salad with fresh mint, crumbled feta cheese, and drizzled with a balsamic glaze.
Grilled Pizza
Impress your friends and family by grilling pizza for a different spin on a classic favorite. Prepare pizza dough or use store-bought dough and roll it out. Brush one side with olive oil and place it on a preheated grill, oiled side down.
Cook for a few minutes until the dough is lightly charred and crispy. Flip the dough and add your favorite toppings, such as tomato sauce, cheese, vegetables, and meats. Close the grill lid and cook until the cheese melts and the toppings are cooked to your liking. Grilled pizza delivers a unique smoky flavor and a perfectly crisp crust.
Grilled Dessert Quesadillas
Transform the traditional quesadilla into a sweet treat. Spread Nutella or your favorite chocolate spread on a tortilla, and layer it with sliced strawberries, bananas, or other fruits of your choice. Fold the tortilla in half and place it on the grill. Grill for a few minutes on each side until the tortilla is crispy and the chocolate is melted. Add ice cream or whip cream to your delight!
The fun thing about grilling is you can experiment however you want. Make a new kind of dish or stick with tradition. Whatever sounds tasty is worth putting on the grill and seeing what happens. Enjoy exploring grilling and savor the unique flavors that the grill can bring to your dishes.
As you embark on your summer beach vacation on Topsail Island, make the most of the warm weather and breathtaking views by firing up the grill. Whether you prefer seafood, burgers, tofu, or even grilled desserts, it's a fun, affordable way to spend with your loved ones.
And if you need a perfect location to grill your favorite dishes, browse our vacation specials on our beach home rentals to find the perfect place to spend your vacation!
Comment on this post!