Why a Vacation Rental Is the Best Bang for Your Buck
Posted On Monday, March 21, 2022
---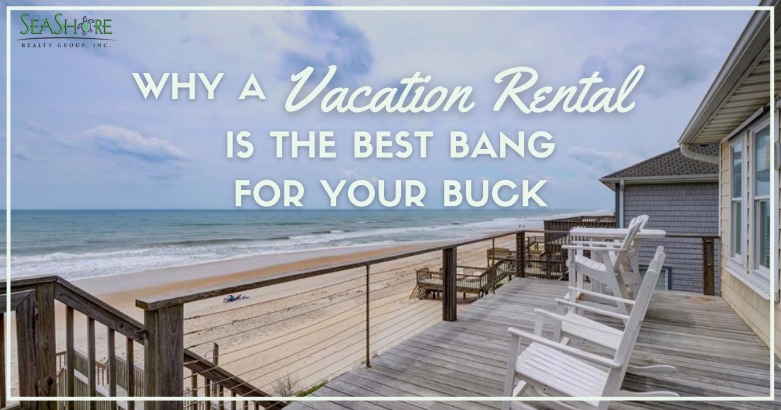 There are so many wonderful benefits to renting a Topsail Island beach vacation rental! If you've never rented a vacation rental before or are on the fence, keep reading to find out why vacation rentals are the way to go!
Private Amenities
Sure, there's plenty to do at most hotels... but the amenities are shared with everyone else. When you stay at a vacation rental, you can enjoy things like a private swimming pool, hot tub, elevator, outdoor shower, oceanfront deck, and more. It's so nice having these things to enjoy privately with your family instead of having to share your vacation with hundreds of other people.
Plenty of Space
With a hotel room, you only get a couple hundred square feet of space and one bathroom for your whole family, but with a vacation rental, you get all the space you want! Whether it's just a few of you or twenty, we've got something that your family will love!
Perfect for Multiple Families
Going on vacation with another family can be so much fun! There's nothing like having your whole family together or vacationing with a group of friends. Don't let the fun stop by going to separate hotel rooms each night, share a vacation rental instead! The added bonus to the fun is it's so budget-friendly! Splitting a vacation rental with another family or two is an excellent way to save money.
All the Comforts of Home
During your Topsail Island vacation, you'll probably need to do laundry, or you may want to cook a few meals. Most of our vacation rentals have fully equipped kitchens and laundry machines, so doing these things are a breeze! Cooking a few meals during your vacation will also save money compared to eating out for every meal, keeping more cash in your pocket for fun things!
Location
Staying at a vacation rental gives you more control over your "home away from home." Hotels are typically pretty generic in location and everyone shares one centralized beach access. With a vacation rental, you can literally stay right on the beach and have your own private access. Also, when you book a hotel, you usually don't get to choose your room specifically. When you rent a condo with us, it's like custom choosing your (much nicer and larger!) hotel room. Each one is unique and decorated differently, which provides you the opportunity to absolutely love your accommodations!
Lots of Pet-Friendly Options
It can often be a chore to find a decent hotel that is also pet-friendly. Most nicer hotels do not allow pets, so you'll be confined to options that may not be the best. We have a wide variety of pet-friendly vacation rentals, meaning you'll never have to sacrifice a thing!
It's Stress-Free
Having a vacation rental is just plain nice! After a great day on the beach, it's so nice to come "home" and not be confined to a hotel room. Enjoy an evening out on your private oceanfront deck with a glass of wine or take a moon-lit soak in your oceanfront hot tub. It's the ultimate stress-free vacation!
We hope by now we've shown you why a Topsail Island beach vacation rental is the way to go! Ready to hit the beach? Give us a call today or check out our vacation rentals page. We'll sea you soon!
Comment on this post!