Christmas on the Coast: Your Best Guide
Posted On Monday, December 12, 2022
---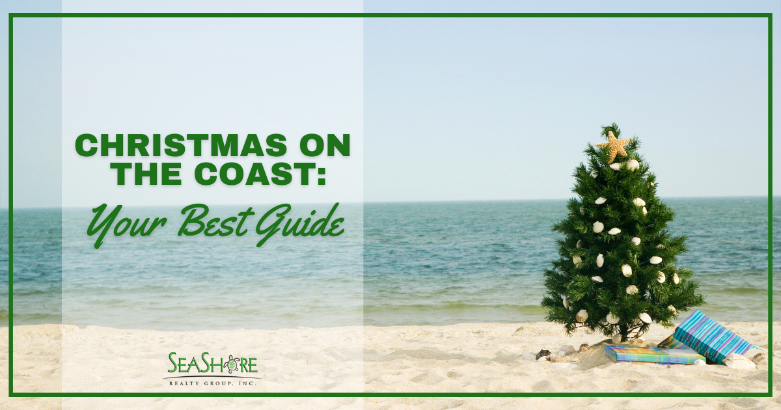 Spending Christmas on the coast is near and dear to our hearts, and we think you'll love it as well! Whether you've never spent Christmas on Topsail Island or it's your family's yearly tradition, our blog post is here to help you make the most out of your holiday at the beach.
If you haven't booked your Christmas vacation rental yet, click here to see what's available and start planning the fun!
IT'S THE PERFECT PLACE TO GATHER THE WHOLE FAMILY
After all, who doesn't love a relaxing beach vacation? We have vacation rentals large enough for your whole crew, so gather them all up and spend Christmas on Topsail Island together! Just think of all the joy from the new memories made and you can even turn it into an annual tradition.
THERE'S PLENTY OF FUN TO BE HAD
There are so many fun things to do year-round on Topsail Island, it will be hard deciding what to do first! Shelling, boat tours, kayaking, stand up paddleboarding, fishing, surfing, golfing, enjoying the pier, and biking are just a few of the outdoor activities that await. Looking for inside fun? Try the local skating rink, axe throwing parlor, escape room, arcade, or bring your own board games!
CHRISTMAS DINNER TASTES BETTER AT THE BEACH
It's true! Christmas dinner is just better at the beach. Think it's too much of a hassle to cook all the fixins' in a vacation rental? Wrong! Our rentals come with fully equipped kitchens that make cooking Christmas dinner a snap. Need a few Southern meal ideas? Read this blog post!
SANTA KNOWS THE WAY TO TOPSAIL ISLAND
It's natural for kids to worry about Santa being able to find them when traveling during Christmas, but thankfully, he knows the way to Topsail Island. Your kids will already be super excited on Christmas Eve but think of the extra excitement that comes with a beach vacation! Don't forget the cookies and milk.
CHRISTMAS BEACH CRAFTS ARE SO MUCH FUN
Does your family enjoy crafting together? Christmas beach crafts are the perfect way to spend time together while making something beautiful! There are so many great beach-themed decorations you can make; the possibilities are almost endless. Need a little inspiration? Click here for coastal themed Christmas crafts.
IT'S THE MOST WONDERFUL TIME OF THE YEAR
Another great benefit of spending Christmas on Topsail Island is the crowds are gone and the weather is great! Here in the South, it doesn't get too cold during the Winter months and most days are pretty enjoyable. Topsail Island typically doesn't get too busy during the Summer, but it's really calm and quiet during Winter. It's the perfect time to relax and enjoy!
IT'S THE PERFECT GIFT FOR EVERYONE
Stressing over what to get your family for Christmas? We know just the thing... a Topsail Island beach vacation! It's the right size, can fit all budgets, and everyone will love it. Book today and check that off your list!
Now that you know how to have a fantastic Christmas on Topsail Island, all that's left to do is book your Topsail Island beach vacation rental and start packing! We hope your family has a wonderful Christmas together, no matter where you spend it. Merry Christmas from everyone at Seashore Realty!
Comment on this post!