Everything You Need to Know to Begin Stand Up Paddle Boarding
Posted On Sunday, August 9, 2020
---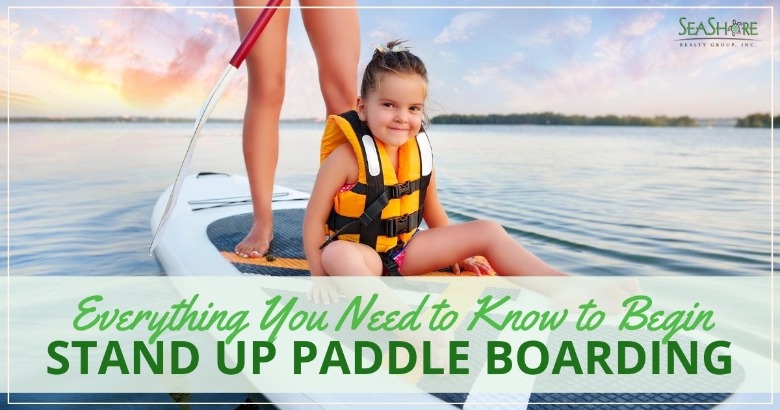 There are a lot of different ways to enjoy the waters of Topsail Island. If you like boating, kayaking or surfing then you have found your paradise. If you are looking for a new and challenging activity that is not only fun, but a great workout then look no further than Stand Up Paddle Boarding (SUP). This sport is easy to learn, allows you to explore the ocean and the backwaters, and is relatively inexpensive to get into. This week we have some great tips on buying your first board, along with safety and tricks to make sure you have a great day on the water.
Take A Lesson
Like trying to tackle anything new, a little help from a professional is always a good idea. Taking a lesson is affordable, allows you to learn proper techniques, and guarantees you be successful. Your Topsail Island beach vacation puts you in the heart of some of the best waterways in the area. We also have a large selection of places to rent and takes lessons from.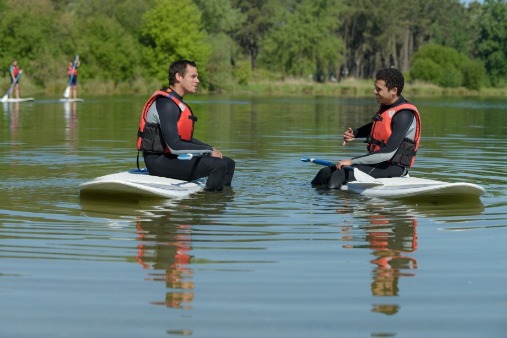 Choosing the right board
Stand Up Paddle Boarding offers something for everyone. You can head out for a relaxing paddle on the calm waters of the ICW, glide along salt marshes, explore rivers, or even catch waves in the ocean. Whatever your passion is, having the right board is key to your enjoyment. Of course, you don't have to buy a SUP. There are loads of great places to rent SUPs here on Topsail Island. If you are looking to buy a SUP here are a few things to consider when purchasing a SUP:
Hull type
Your two main choices are a planing hull and a displacement hull; the type you choose will be based on the type of paddling you plan to do.
Solid or inflatable
Do you want a solid board or an inflatable one? Your answer will be based on things like board performance, portability, and your storage options.
Volume and weight capacity
You want to pick a board with the volume and weight capacity that's right for your height and weight to ensure good stability and paddling performance.
Length, width, and thickness
The dimensions of a SUP play a big role in determining how it handles on the water. From there, you'll consider a board's fins and any extras or accessories that work for you.
Ok, so you've either purchased or rented your standup paddle board and had a lesson or two. Now it is time to get out and explore Topsail Island's waterways. Of course, before you hit the water there is one last step...safety. Here are a few safety tips to ensure you have a fun and safe day on the water.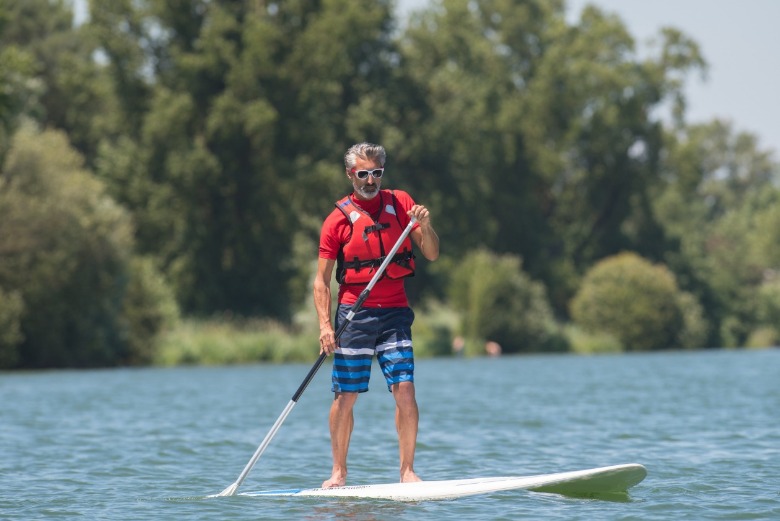 General Safety Tips
Nothing can ruin a great day faster than an accident or an injury. With a little planning and attention to a few safety tips, you can be sure to have a safe and fun day on the water. Here are several tips that are especially important for new or novice paddlers. Remember, taking a lesson is a great way to make sure that you have all the best techniques to help you make the most of your day on Topsail Island.
Wear A PFD
This tip is especially important for those who are just beginning to learn how to SUP. The bottom line is things can happen... especially when you are new to a sport. An appropriate life vest can, well ...be a lifesaver. If you are paddling alone (something we do not recommend) it is especially important to have a PFD. There are a lot of designs that are cool and comfortable that won't restrict your movement.
Use A Leash
This actually goes for all stand up paddle boarders. The sooner you're aware of how vital a leash is, regardless of the water conditions, the safer you and everyone else will be when you are paddling. Be safe, wear a leash.
Buddy Up
What could be better than spending the day on the water with a friend on a SUP? Not much! All kidding aside, the safest practice is to go with a buddy. Just like swimming, it is a good practice to have a partner who can help in the event something goes wrong. Stay safe and have fun.
Fall Off The Right Way
Just like you can practice tricks and wave riding, practicing falls or at least being aware of how to fall and fall safely can ensure your session is not cut short by injury. Stand Up Paddle Boards are big and can hurt if it hits you when you fall. You want to fall away from your board.
Only Ride Waves You Can Handle
Mother Nature is a powerful being and you need to respect her (and know your limits). Be smart ... and only ride waves appropriate for your skill level.
Watch The Wind
It's important to know the conditions when you head out on the water for the day. Take a look at the forecast so you're aware of any possible changes coming. Remember, when you're standing on your SUP, you're like a sail in the wind. If you're ever caught in strong winds, lay down with your paddle tucked under you and paddle the board like a regular surfboard.
Are you ready to book your late summer or fall Topsail Island beach vacation? With many school systems not returning to traditional classroom instruction you can even take a family vacation in September (or October, November, December). Why not? Almost all of our vacation homes feature WiFi, making it perfect for schooling or working at the beach. Now that sounds like a win win situation. Give us a call today at 910-328-3400 or click the button below to see our current inventory of vacation homes.
Comment on this post!