How to Have the Best Beach Vacation on Topsail Island
Posted On Monday, April 2, 2018
---
''My favorite place to vacation is anyplace by the Ocean.

''



by Nina Arianda
If your idea of the perfect vacation is one filled with sunshine, pristine beaches, and the soothing sound of the ocean's rhythm, then we have the perfect place for you. Every once in a while you find a hidden gem, that perfect restaurant, or great book. Well, get ready to find the best-kept secret on the North Carolina coast...Topsail Island! Today we have everything you need to plan the perfect Topsail Island beach vacation. Let's get started!
Find The Perfect Property
Finding the perfect property on Topsail Island is as easy as counting 1,2,3. Our dedicated staff of friendly and knowledgeable reservationists is here to help you find your dream vacation getaway. Of course, we also have a great website that allows you to search for properties. All of our homes are meticulously well maintained, and we ensure that the highest standards of cleanliness, convenience, and modern amenities are available. After all, this is a vacation, so we want to spoil you and your family. Here is one example of the quality of the vacation rentals in our inventory. Remember all of our homes must meet our high standards or quality and cleanliness.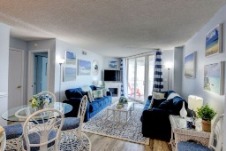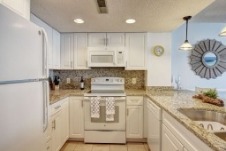 If these pictures don't make you think about a wonderful day on the beach, we don't know what will. This is one of our featured properties, St. Regis-1411. This property is an oceanfront property loaded with amenities. Here are just a few of the highlights of this property.
Welcome to this charming 2 bed, 2 bath condo located at the St. Regis Resort in North Topsail Beach. Once you walk through the door, the first thing you will notice are the endless views of the sandy beaches and the Atlantic Ocean. This condo offers an updated kitchen that is fully equipped for all of your cooking needs. Either spend your evenings on your own private balcony watching the sunset, or curl up in front of the fire on cool nights. Amenities of the St. Regis resort include an oceanside outdoor pool, indoor pool, hot tub, sauna, fitness center, outdoor grilling area, tennis courts, onsite bar and grill, and much more! Walk over the exclusive community beach access and stroll the miles of secluded beaches and glistening blue ocean waters. The beach is calling, don't settle for anything less than everything you need to relax and make special memories with your guests on beautiful Topsail Island. This vacation home is located at the St. Regis Resort, you will be checking in at our St. Regis Resort Office. St. Regis Resort Office 2000 New River Inlet Road, Building 2 Lobby, North Topsail Beach, NC 28460
LINENS INCLUDED WITH FULL WEEK STAY MAY 26 - AUGUST 10, 2018!! Not available if booked online- Contact our office 910 328 3400 to book reservation.
Of course, this is just an example of one of our properties. We have dozens of incredible homes for you to choose from. Just follow the steps below, and we'll see you soon.
Step1
Call (910) 328-3400 to speak with a reservationist or visit our website to explore all of our beautiful properties. You can also chat with us live if you're sneaking in a little vacation planning during that boring monthly staff meeting...we understand.
Step 2
Now that you've picked your vacation home, it's time to review your rental agreement. Remember to make sure to choose Red Sky Travel Insurance. This guarantees you've protected your vacation. More on that in a bit.
Step 3
This is the best part of the planning. If you are new to Topsail Island, it's time to start planning all the great things you're going to do and see. If you're returning to us this year, you can catch up on all the latest and greatest things to do and see. Don't worry we have some ideas for you.
Enjoy Topsail Island's Awesome Attractions
Topsail is a unique blend of modern amenities and nostalgic family-friendly venues that allow you to relax and enjoy a slower pace of life. Maybe you could call it, island life. Whether you want an action-packed day on the water fishing or walking our pristine beaches, there is literally something for everyone. Here are a few things you might love to try.
Topsail Beach Skating Rink
If you're looking for something fun to do with the whole family, try the Topsail Beach Skating Rink. Located above, the post office (you read that right) on Topsail Beach. It's been a tradition for over 50 years! The rink is owned and operated by the founding family and is the perfect example of the charm and unique character you'll find here on Topsail Island. But there is so much more to enjoy on Topsail Island. A great way to stay up to date with the latest activities and to learn more about Topsail Island is to follow our blog. Here are a few more great things to do.
A Day On The Pier
Another fun thing to do is to visit one of the three piers on Topsail Island. No matter where you decide to stay, North Topsail, Surf City, or Topsail Beach, you'll find yourself right around the corner from a pier. Each pier has a unique feel and character. However, they all share one thing in common, and that is their family-friendly atmosphere. So whether you want to walk the pier and watch the waves roll in, or you're looking to spend the day fishing, take a moment to visit one of our piers. We're sure you'll love it. Click on each one to find out more!
124 Fishing Pier Lane
North Topsail, NC
(910) 328-3172
112 S. Shore Drive
Surf City, NC
(910) 328-3400
803 Ocean Blvd
Topsail Beach, NC
(910) 328-4616
Three Great Things Things To Check Out On Topsail Island
Besides our great piers, and roller skating there is of course, lots of other interesting and family-friendly things to do and see on Topsail Island. Here are three more fun things to plan.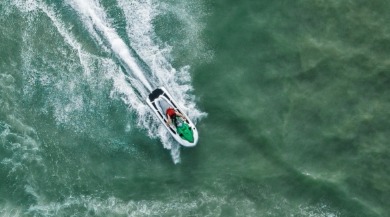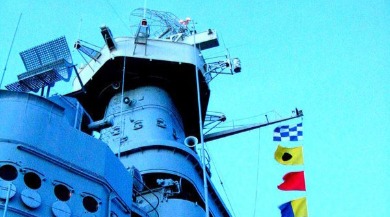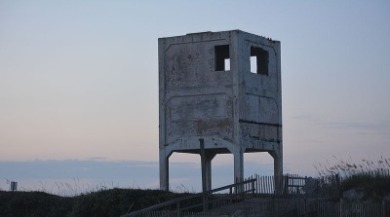 Planning your Topsail Island beach vacation is easy with Seashore Realty. Our dedicated staff of professionals have years of experience making sure your family has the absolute best vacation experience possible. Summer is fast approaching and now is the perfect time to plan your vacation. Call one of our reservationists at (910) 328-3400 or click the button below to start planning your Topsail Island beach vacation today!
Comment on this post!