Why a St. Regis Condo is Perfect for your Next Topsail Island Beach Vacation
Posted On Monday, May 6, 2019
---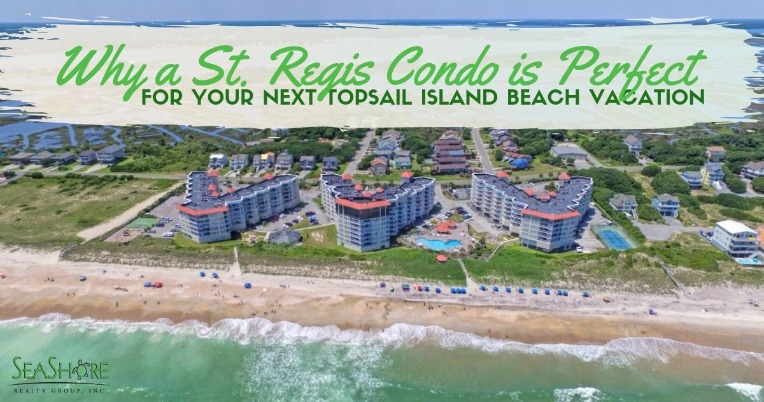 Have you booked your 2019 summer beach vacation? If you haven't yet, we have the perfect destination right here on beautiful Topsail Island, NC. The St. Regis Resort, located on the pristine shore of the Atlantic Ocean offers visitors a great value for their money. Featuring one of the best locations, loads of amenities, and a family-friendly atmosphere St. Regis Resort is the perfect place for your family in 2019. Let's take a closer look at one of Topsail Island's treasures and how to make the most of your stay there.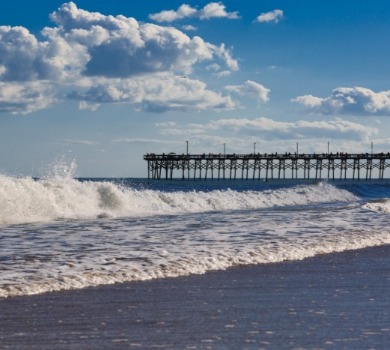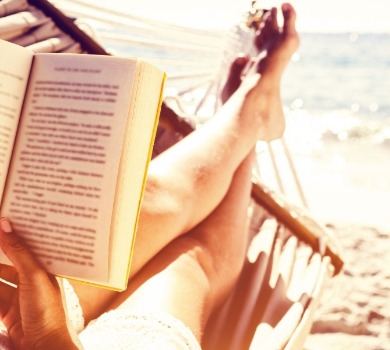 5 Reasons to Choose Topsail Island.
Before we talk about the St. Regis Resort let's take a minute to talk about why you should choose Topsail Island as your next beach vacation. Topsail Island is a unique destination. Among the beauty of coastal North Carolina, Topsail Island stands out as the perfect family destination. Here are five reasons you should choose a Topsail Island beach vacation.
Pristine beaches- Topsail Island has twenty-six miles of beautiful, uncrowded beaches to enjoy. Forget the more crowded northern beaches. While on Topsail Island you'll be amazed how you feel like you have your own private beach, twenty-six miles of them!
Island vibe- There's truth to the saying that life is different on an island. Our community is a family-friendly place. Many families have been coming to the island for generations. Our local community is welcoming and all to ready to help you unwind from the stresses of life.
Perfect location- Topsail island is located near both Jacksonville and Wilmington, North Carolina offers visitors lots of opportunities to visit not only Topsail Island, but some of the region's best attractions.
Affordability- Vacations are expensive and for many families taking a beach vacation is a huge investment. Topsail Island offers vacationers a lot of value for your money. With affordable accommodations and lots of inexpensive things to do and see, Topsail Island offers visitors a great value.
Huge vacation rental selection- From small homes to large homes and everything in between, Topsail Island and St Regis Resorts allows your family to choose from the ultimate selection of vacation homes. We have a vacation rental to suit every budget.
Location, location, location
The old saying in real estate is that everything comes down to location. If that is true, then the St. Regis Resort on Topsail Island is a perfect vacation destination. Located in the serene and quiet North Topsail Island, St. Regis is indeed a destination within a destination.
The St. Regis Resort has been immaculately maintained and is one of the best beach condominium complexes on the North Carolina Coast. If you close your eyes and picture a luxurious beach-side resort loaded with amenities just minutes from everything you want to do or see on Topsail Island, then you'll be picturing the St. Regis resort. Let's find out more about what makes the St. Regis Resort and Topsail Island so special.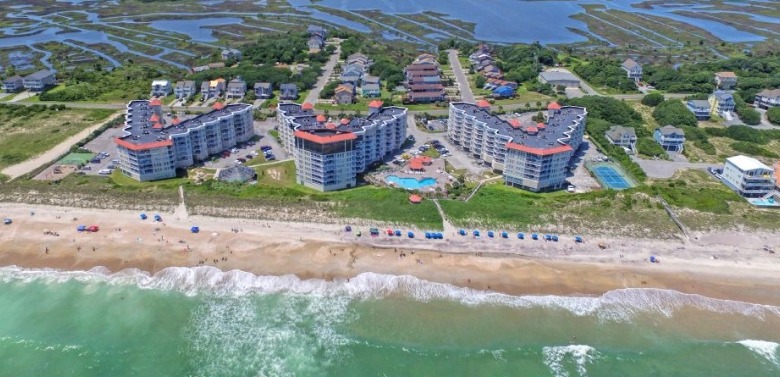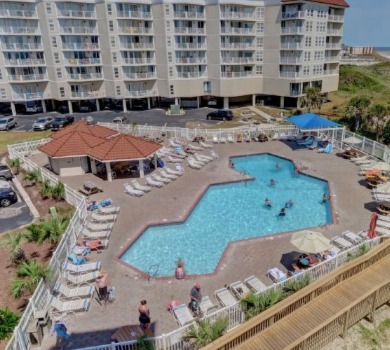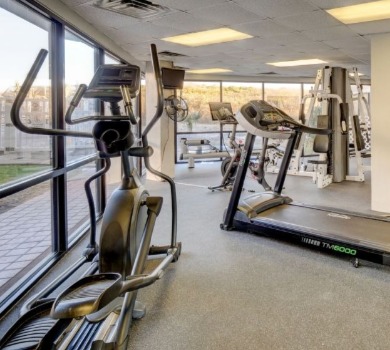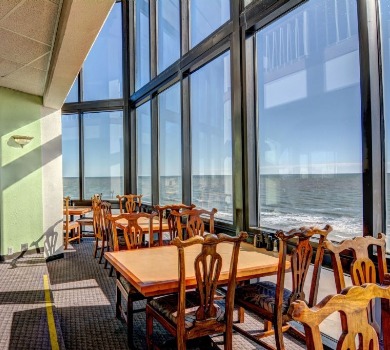 St. Regis Resort: Luxury at an affordable price
The St. Regis Resort offers luxury accommodations and amenities at an affordable price. Most vacation homes offer a nice compliment of amenities, but the St. Regis Resort offers the most amenities, best location and beach access for the money. All the units are well appointed with everything you need. Whether you want to cook at home or walk over to the onsite restaurant for dinner at St. Regis Resort, everything you need is just a few steps away at the St. Regis Resort condos. Here are just a few of the amenities you'll find at St. Regis Resort.
Outdoor Pool- St. Regis Resort features a huge outdoor pool that is sure to be a hit with everyone in the family. Few things are as time honored as splashing about in the pool on a hot day.
Fitness center- You don't have to give up your workout regimen while on vacation or look for a gym for a week long membership. The St. Regis Resort features an onsite fitness center with all the best equipment allowing you to shred those calories.
Beach access- Let's face it you chose Topsail Island for the beaches. The island features miles of pristine beaches. Why drive to a beach access when you can stay in a condominium with beachfront access. Just grab a towel and walk out your door to the beach. Now that is relaxing.
On site restaurant- If you are looking for a spectacular meal with an equally stunning view, the Ocean's Edge Oceanfront Restaurant is located on the 7th floor of the condominiums. We're not sure whether you'll remember the meal or the view more, but one thing is for sure just a few steps from your door is a world class dining experience.
Are you ready to book your St. Regis Resort vacation? If you are, our friendly staff of reservationists is here to help you find the perfect vacation home. You're just a phone call away or few clicks of the keyboard away from unlocking all the best of Topsail Island and the St. Regis Resort. Hurry there is still time to book that perfect Topsail Island summer vacation you've been dreaming about. Call today at 910-328-3400.
Comment on this post!