5 Reasons Why Rentals are the Best!
Posted On Monday, January 11, 2016
---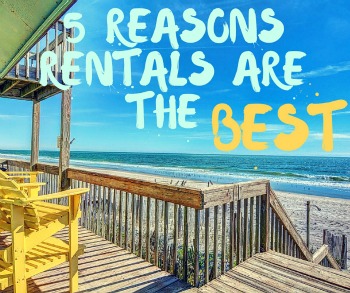 At Seashore Realty we are committed to providing you with the best vacation experience possible. We also think that it can be easy to assume that vacationers already know all the great perks that come from staying in a rental. However our staff has pooled together to share experiences and relized this may not be the case. As a result we have decided to highlight our top five favorite things about staying in rentals! And here they are:
1. Talladega...or rather Topsail nights!
When you're staying at a hotel there's a certain pressure to be in at a certain time and a need to be reserved in the later hours out of respect for other guests. However, at a rental you can not only come and go as you please, but you can also not have to worry about the volume level so much as the evening wears on. While it may not seem to make much of a difference on short trips, if you're planning on staying a weekend, or longer, constraints on activity can put a real damper on family activities and friendly antics.
2. Community is the thing...
Even in the best of circumstances, if you take a group to a hotel, you'll get adjoining rooms and have to coordinate when the door will be open, when you're going to dinner and so on. When you take your group to a rental, you're all together all the time, making planning and leaving on time infinitely easier. You can even chose between
large homes
, we have properties that accommodate
up to 18
,
condos
, or you can call us for assistance booking several rentals near each other! It also gives you much more space for the kids to play, and the adults to talk.
3. Location, Location, Location
One of the best parts of renting instead of staying in a hotel is that instead of simply choosing what town you stay in, or what part of town, you can chose which beach, which strip of beach, what kind of view you want. The options are endless for you to customize your rental to be perfect for you and your group. If you have a group with small children or someone who doesn't like the sound of the ocean,
second row homes
could be a good option for you. Whereas if you have a group of people old enough to monitor their own safety who all love the beach and can't get enough of the waves,
ocean front
is the place for you!
4. Money, Money, Money......MONEY!
If you add up the number of hotel rooms with comparable amenities per night to accommodate your group versus the cost a rental that can handle your group divided by the number of people staying there, the rental is less for far more amenities! Especially when you add in the cost of eating out several times a day, gas from your hotel to wherever you go and any other entertainment through the day. Whereas, if you stay in a rental, you can buy most of your groceries and cook yourself, as well as usually being closer to the beach and other local attractions through town and being able to do less expensive diversions, like renting movies for a marathon.
5. Pooch Perks
Take your dog with you! We have
several beautiful properties
that are pet friendly. Traveling with your canine companion to a hotel can be draining on the bank account, but it doesn't have to be in a rental! Not to mention that any rental you stay in with us will be larger and more comfortable for your four-legged friend than a hotel room and most come with yards and easy beach access for playtime!
In Conclusion
We think that the facts speak for themselves. The simple truth is that rentals, and we think especially ours, stand head and shoulders above hotels in amenities, price, privacy and overall friendliness to the lives we know you have and the families and friends, furry and otherwise, you want to bring along!
Comment on this post!