The Best Spring Beach Crafts
Posted On Monday, April 18, 2022
---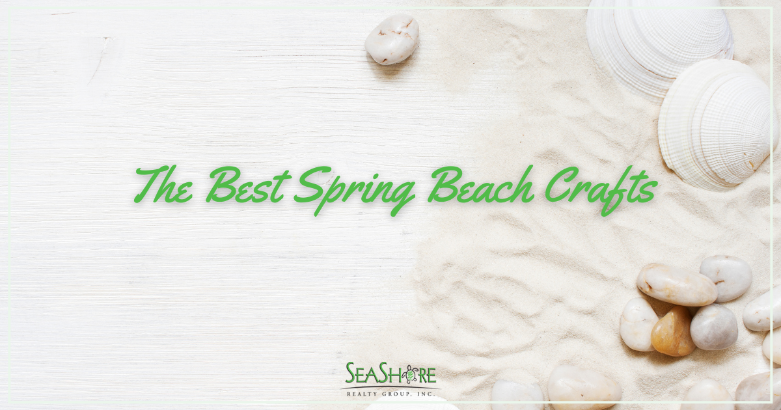 Spring is here and what better way to welcome in the sunshine than with a few great beach crafts? These adorable crafts are perfect for making at home or during vacation at your Topsail Island beach vacation rental. Grab some shells, sand, and whatever else you have on hand and let's get crafting!

This gorgeous sea glass planter will bring tranquility and freshness to your home, as well as sentimental value with lovely sea glass pieces found during your Topsail Island vacay!

Ready for a little outdoor fun? This super-cool beach ball garland is sure to do the trick! Your kids are sure to love this festive craft.

We love this beautiful seashell mobile! It's trendy, easy to make, and lets you bring a little piece of Topsail Island home with you. You can use shells you find on the beach, oysters, or whatever you like!

Aren't these rope-wrapped candle holders gorgeous? They instantly add a touch of warmth, beach, and class to any room!

Nothing says "beach" like a beautiful driftwood craft! P.S... if you use a real starfish, make sure it is no longer alive (it will be very dry and brittle).

Surprising your kids or special someone with a Topsail Island beach vacation? What better way to let them in on your secret than with this super-fun beach in a ball?!

Who says wreaths are for Christmas? Make your own one-of-a-kind Spring beach wreath and enjoy having a touch of the beach on your front door or wherever you choose to display it!

How cute is this DIY floppy hat? It's so quick and easy to make and there are tons of ways to make this awesome hat "you!" Not only will you look cute as can be, but you'll also protect your face and ears from the sun!

We can't think of a better way to display your favorite photo from your Topsail Island beach vacay than in a beautiful seashell frame that you made yourself!
Feeling crafty? Good! Now the only thing left to do is visit Topsail Island, collect items for your crafts (and of course enjoy relaxing in paradise!), and get to crafting! We're here for all of your vacation rental needs and can't wait to serve your family.
Comment on this post!