What Will You Find on the Beach?
Posted On Monday, September 5, 2022
---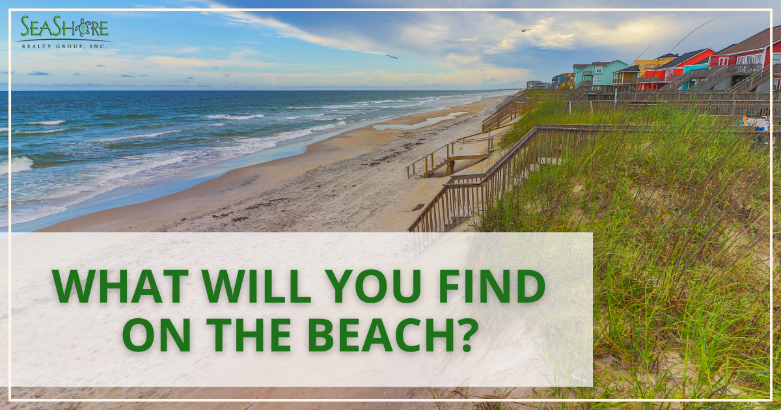 One of the fun things about beach vacations are the discoveries that can be made on the beach! There are so many exciting things just waiting to be found, and your family is sure to love exploring the pristine beaches of Topsail Island. Keep reading to learn about a few things that you may come across during your time spent enjoying our beaches.
Shells
Of course, shells are expected to be found and collected during your beach vacation! But did you know that we have some of the best beaches for shell hunting? Below are some of the main shell types you can expect to find on Topsail Island.
Shark Teeth
If you look carefully, you're bound to find a shark tooth or two while enjoying the beaches of Topsail Island! Did you know that several people have found massive shark teeth on our beaches? Check out this news article about a couple from West Virginia who found a few huge shark teeth!
Marine Life
Sometimes, marine life washes up onto our shores. You may get lucky and spot something cool like an octopus or starfish, just remember not to touch. Topsail Island is known for our sea turtle rescue and preservation efforts, and you may get to see a baby sea turtle or two on the beach! Also, don't forget to stop by the Karen Beasley Sea Turtle Rescue and Rehabilitation Center to get up close and personal with the sea turtles that call Topsail Island home. Check out the video below to learn a little about the sea turtle hospital!
Treasure
Okay, so you might not find gold and jewels, but your kids will certainly think anything unique found on the beach is a treasure! Be on the lookout for other people's left behinds and things washed up on the beach. We actually know someone who found a real-life message in a bottle on the beach washed up from far away, and they became pen pals! Super cool, right?
New Friends
The beach is an excellent place to meet beach lovers just like yourself! People from all over the country come to enjoy Topsail Island throughout the year, so you never know just who you'll meet. The North Carolina coast is a well-known retreat for celebrities as well, so be on the lookout for your favorite celebrities!
These are just a few of the things you may come across on the beaches of Topsail Island! Haven't booked your 2022 Topsail Island beach rental yet? There's still time! Click here to see what's available and start planning your relaxing retreat today. You deserve it!
Comment on this post!