Why an Exciting Beach House is Your Ultimate Wedding Venue Choice
Posted On Monday, November 6, 2023
---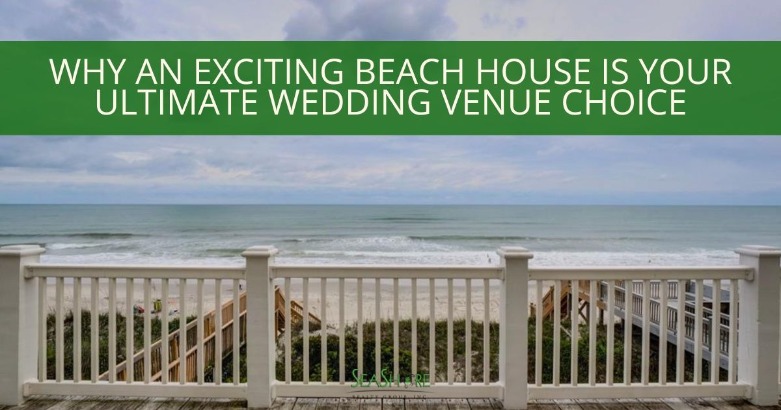 Topsail Island is a sought-after destination for couples dreaming of a picturesque beach wedding. Its tranquil beaches and relaxed ambiance set the stage for a heartfelt exchange of vows. A notable feature of this island is the array of vacation rentals, providing an appealing alternative to conventional wedding venues.
Choosing a vacation rental for your wedding venue delivers a personal and intimate setting. It sets the scene for a distinctive celebration with the Atlantic's scenic beauty as your backdrop. As you plan your significant day, discover how a vacation rental can transform your beach wedding into a momentous occasion. Keep reading to learn why they are becoming a more popular choice for couples!
Personalized Paradise
Vacation rentals on Topsail Island offer a distinctive charm that sets them apart from traditional venues. Here, you're not just renting a space for a few hours but gaining access to a home-like setting for an extended period. This allows for a more relaxed, unhurried experience where you can set up and celebrate at your own pace.
Unlike traditional venues, which may have multiple events in a day, a vacation rental is yours exclusively for your stay. This exclusivity lends a personal touch to your celebration, making it all the more special. Moreover, the unique layouts and features of vacation rentals, like a cozy fireplace or a spacious backyard leading to the beach, provide a one-of-a-kind backdrop that adds a touch of uniqueness and intimacy to your wedding celebration.
Intimate Celebrations
The serene ambiance of a vacation rental on Topsail Island creates a perfect setting for intimate gatherings. Unlike bustling commercial venues, a vacation rental provides a tranquil, private space where you and your loved ones can celebrate without distractions.
The home-away-from-home environment encourages genuine interactions and heartfelt celebrations among your close-knit circle, making your wedding a more personal and memorable experience. Additionally, the secluded location allows for cherished private moments with your partner amidst the natural beauty of Topsail Island, adding an extra touch of romance to your special day.
Stunning Scenic Beauty
Beachfront vacation rentals significantly enhance the wedding experience with their prime locations. The immediate access to the beach allows for a ceremony on the sandy shores, with the calm waters of the Atlantic creating a serene and beautiful backdrop.
This ease of access simplifies the logistics of planning a beach wedding, as you can transition smoothly from the comfort of your rental to your seaside ceremony. Moreover, the natural beauty surrounding beachfront properties provides an effortlessly picturesque setting, adding a touch of charm to your wedding photographs and memories.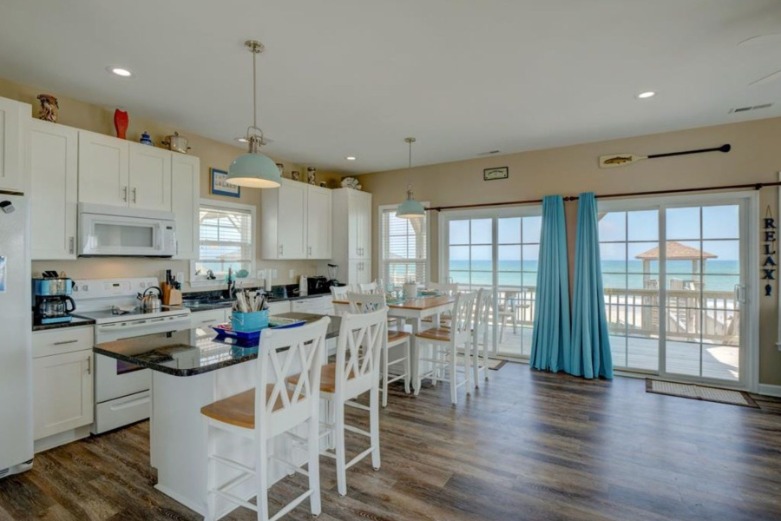 Budget-Friendly Brilliance
Vacation rentals can provide a more budget-friendly alternative without compromising quality or aesthetics. Unlike traditional venues that often have fixed packages and mandatory vendor lists, vacation rentals usually offer the flexibility to choose your own vendors.
This allows you to shop for the best deals and tailor your wedding expenses to fit your budget. Additionally, extending your stay and turning the occasion into a mini-vacation or honeymoon can also present savings, making a vacation rental a cost-effective and enjoyable choice for your beach wedding.
Comforts of Home
They also provide you and your guests with a comfortable environment. Unlike traditional venues' formal and sometimes impersonal atmospheres, vacation rentals offer a relaxed, cozy ambiance.
With well-furnished living spaces, fully equipped kitchens, and private outdoor areas, your guests can feel at ease and enjoy the celebration to the fullest. Moreover, the opportunity for close family and friends to stay together in a home-like setting fosters a sense of community and camaraderie, making your wedding celebration even more meaningful and enjoyable.
Unforgettable Memories
Lastly, vacation rental on Topsail Island opens up a world of local exploration and convenience for your wedding festivities. The island is ripe for pre-wedding celebrations like a lively bachelorette or bachelor party. Nearby dining options offer ease for your dinner reception, and local stores are handy for last-minute wedding essentials.
Post-ceremony, the adventure continues with relaxing beach outings, delightful local restaurants, scenic boat tours, or a visit to the renowned Karen Beasley Sea Turtle Rescue and Rehabilitation Center. With everything close by, your wedding becomes the centerpiece of an extended, enjoyable experience on Topsail Island.
Vacation rentals offer endless possibilities for couples with their versatility and affordability. They are perfect for helping to create personal experiences, close bonds, and cherished memories. As you enter this new chapter, consider opting for the cozy, picturesque vacation rentals offered by SeaShore Realty. Our rentals ensure every moment of your celebration is as unique and memorable as the bond you share. And if you need any help with planning, let us know how we can help by contacting us today!
Get exciting things to do on Topsail Island perfect for you and your wedding party!
Uncover Topsail Island's Charm with These Top 10 Fall Beach Activities.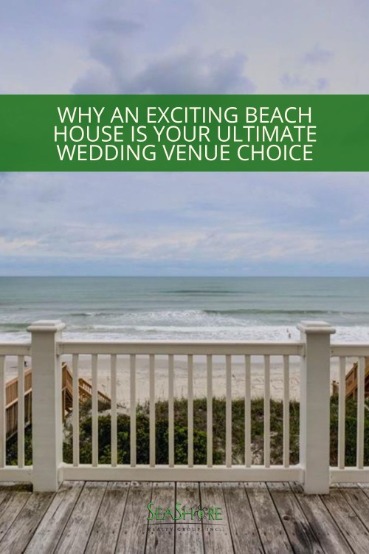 Comment on this post!