How to Plan Your Christmas Beach Vacation
Posted On Monday, November 9, 2020
---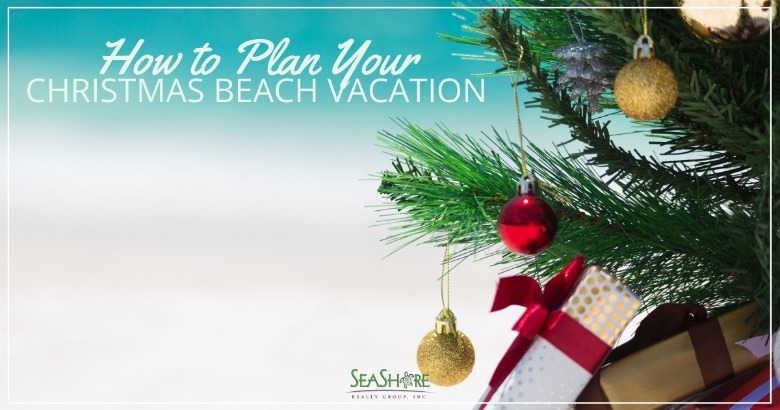 Have you ever dreamt of having a white Christmas…without the snow? The wide, white sandy beaches of Topsail Island will provide a holiday that your family will not soon forget. With mild weather, great specials on vacation rentals, and the prospect of a good ol' fashioned Southern Christmas…Topsail is the perfect retreat this year! Celebrate the season away from the hustle and bustle, and enjoy the gorgeous North Carolina beaches and Carolina blue skies. SeaShore Realty is ready to roll out the red carpet – and help you plan an amazing Christmas vacation.


Find the perfect Christmas vacation rental
SeaShore Realty has a ton of rental options for your holiday vacation. From quaint cottages to large oceanfront homes, there is something for every size family & budget. Renting a vacation home gives you so much freedom to go along with your holiday season. You will have a kitchen for preparing a delicious Christmas meal, and plenty of space for the family to gather together (whether it is out on a deck or in a living room with ocean views). Here are a few great properties that are on special at the moment. However, we have a huge selection and are here to help you find the perfect vacation home.


Plan a great Christmas dinner
Get uber organized, and start your holiday meal prep before you ever leave home. Plan your menu, and begin to compile a shopping list. You will want to make a paper or electronic file to include your menu, shopping list and recipes. If you plan to do a lot of traditional cooking and baking, you may want to consider bringing (from home), any herbs, spices, and hard to find items. This will save you valuable time and money!
Next, consider your holiday meal and the leftovers. This may be the year to divide the recipes in half! If not, then plan accordingly with plenty of zip top bags and storage containers. Keep in mind that your vacation rental will most likely NOT carry a full set of china with a gravy boat, but the basics will be covered. You may have to cook up some creativity, but your vacation rental in Topsail will still offer you a wonderful space to enjoy cooking and baking with your entire family.
There are several grocery stores near Topsail, like IGA, Walmart and Food Lion, where you can stock up on all your vacation food supplies!
During the winter months, many of the local Topsail restaurants will be closed for the season. But let's face it, you aren't coming to Topsail for your holiday vacation because of the high-fashion dining. One of the most wonderful things about Topsail in December is its slow pace and seclusion. You will feel like you have stepped into a different place in time, away from the hustle and bustle of Christmas. But don't worry, there are still plenty of dining options in the Topsail area...including the large port town of Wilmington, which is just a 1-hour drive away.


Enjoy unique Topsail Island activities
Topsail may be a quaint and quiet little beachfront town, but that doesn't mean it's boring! There are so many great ways for you to enjoy quality time with your loved ones. Here is a list of ways you can escape the everyday, and celebrate the season...Topsail style!

Shell Collecting: The winter months are perhaps the best time of year to find seashells, sea glass and other treasures of the sea. Winter and fall storms provide perfect conditions for churning up shells and sea glass.

Kayaking: Winter is still warm on Topsail Island and there are many days when hitting the water on a kayak would not only be fun, but truly magical.
Fishing: There is no such thing as an "off-season" for fishing. Topsail Island is famous for its fishing all year round.
Sea Turtles: Learn about Sea Turtles: Visit the Karen Beasley Sea Turtle Rescue & Rehabilitation Center.
Have you planned your Christmas getaway? If you haven't, now is the perfect time to call up the relatives, change your Facebook status and head to Topsail Island. Christmas on the beach is unique and memorable. Change it up in 2020 and head to Topsail Island, we promise – Santa will know where to find you.
Call us today at 910-328-3400.
Comment on this post!